Traders See Kiwi Flight to Record as RBNZ Repudiated
Candice Zachariahs and Kevin Buckland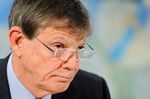 Graeme Wheeler is finding that he can't be the only major central banker to raise interest rates this year and still expect his nation's currency to weaken.
New Zealand's dollar is the best performer among Group of 10 currencies since a June 12 meeting, when Reserve Bank Governor Wheeler lifted borrowing costs for the third time in 2014 while saying the exchange rate should be lower given a drop in commodity prices. Options show traders pricing in a 73 percent chance the kiwi will this year surpass its record-high of 88.43 U.S. cents reached August 2011.
The need to prevent a housing-market bubble is forcing the central bank to tighten monetary policy, putting Wheeler's desire for a weaker, export-friendly currency further beyond reach. As far back as February 2013, Finance Minister Bill English equated the challenge New Zealand faced in influencing the kiwi to being in a "war zone with a peashooter."
"The RBNZ is unlikely to successfully talk the currency down when it is increasing interest rates and retains a pretty hawkish bias," Petr Krpata, a foreign-exchange strategist at ING Groep NV in London, said June 17 by e-mail. "It has been a futile battle."
Policy 'Risk'
The kiwi, named for the image of the flightless bird on the NZ$1 coin, advanced 6 percent this year against the U.S. dollar, the biggest gain after that of Brazil's real among 31 major currencies tracked by Bloomberg. It has climbed more than 3 percent from a three-month low of 84.02 U.S. cents on June 4, and traded at 87.08 cents as of 1:18 p.m. in New York.
The probability of the New Zealand dollar reaching a record level has risen from about 41 percent at the end of last year, according to Bloomberg calculations using implied volatility prices in the options market.
Policy makers "are throwing caution to the wind on the currency," Greg Gibbs, the Singapore-based head of Asia-Pacific markets strategy at Royal Bank of Scotland Group Plc, said in a June 17 phone interview. "They're willing to risk that the currency continues to climb in order to keep interest rates higher and put downward pressure on the housing market."
Gibbs said that while there's a high probability the currency will surpass this year its strongest level since being freely floated in 1985, an increase in U.S. bond yields may draw international investors to the greenback, limiting the kiwi's advance. RBS sees it falling to 83 by year-end, in line with the median of strategists' forecasts compiled by Bloomberg.
Carry Trade
The Reserve Bank of New Zealand raised its official cash rate a quarter-percentage point on June 12 to 3.25 percent, three months after becoming the first developed-nation central bank to lift borrowing costs this year.
Higher rates make the kiwi more attractive to international traders, who buy it with the proceeds of loans in nations with lower borrowing costs, earning the difference. Record-low global volatility has only made the trade more appealing by reducing the chance of it getting upended by sharp swings in exchange rates.
It may be time for Wheeler to embrace the benefits of a stronger currency, according to Richard Grace at Commonwealth Bank of Australia.
"Why not welcome a high currency because it's doing some of the job of dampening inflation, which is the reason the RBNZ is raising interest rates?" Grace, CBA's chief currency and rates strategist in Sydney, said yesterday by phone. "Nothing suggests to us that the exchange rate will weaken."
'Tough Walk'
Wheeler has struggled to curb the kiwi's gains ever since July, when he became the first head of a major central bank to explicitly signal a tightening in monetary policy since the global financial crisis.
In his policy statement accompanying last week's rate decision, Wheeler signaled more increases will be necessary to control inflation and curb a housing boom, while also saying the kiwi needs to adjust to lower commodity prices.
"It's a tough walk," Gerry Celaya, a senior currency strategist at Aberdeen, U.K.-based research firm Redtower Asset Management, said yesterday by phone. "The central bank doesn't want the kiwi to firm up."
Wheeler predicted inflation will accelerate to the 2 percent midpoint of its target range by mid-2015, from 1.5 percent in the first quarter. An index of house prices rose to the highest on record in April, data from the Real Estate Institute of New Zealand showed.
Booming Economy
New Zealand's gross domestic product expanded 3.8 percent in the first quarter from a year ago, the fastest pace in more than six years, the statistics bureau said today. The expansion was led by a 12.5 percent surge in construction, while mining, farm output and retailing also gained.
Growth will be 3.2 percent this year, the most among G-10 currency nations, according to separate polls.
On the same day as last week's rate increase, RBNZ Assistant Governor John McDermott repeated the view that the currency was mispriced, singling out dairy, New Zealand's biggest export, as a factor that should be weakening it. Auction results from Fonterra Cooperative Group Ltd.'s GlobalDairyTrade show whole-milk powder prices fell 27 percent since an early February sale.
"It's the highest-yielding currency in G-10 and it's the only one with rising interest rates," Adam Cole, the head of G-10 currency strategy at Royal Bank of Canada in London, said yesterday by phone. For policy makers, "there's very little they can do."
Before it's here, it's on the Bloomberg Terminal.
LEARN MORE