Tea Party Gets Shut Out of the House GOP's Leadership
By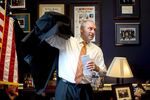 Thursday's Republican leadership elections in the House were swift and decisive: The establishment (mostly) won and the Tea Party (mostly) lost.
If you want to skip the blow-by-blow analysis and cut right to the chase, here it is: Nothing much has changed, and the Republican caucus made only the mildest of gestures to appease restive right-wingers.
In the wake of Majority Leader Eric Cantor of Virginia's stunning primary loss last week, Representative Kevin McCarthy of California easily rebuffed a late challenge from Representative Raul Labrador (R-Idaho) to move from the No. 3 slot in the House leadership up to the No. 2 slot, replacing Cantor.
The three-way battle to succeed McCarthy as majority whip was won on the first ballot by Steve Scalise, a conservative from Louisiana. The outcome for Tea Party folks could have been slightly worse. Three candidates ran for the job, and the preferred Tea Party candidate, Marlin Stutzman of Illinois, appeared as though he would finish a distant third. (He may have—the voting was in secret.) Still, the establishment candidate, Peter Roskam of Illinois, didn't win either.
In the political taxonomy of Capitol Hill, Scalise is a curious figure. According to National Journal, he's the fourth-most-conservative member of the House GOP caucus. He's also chairman of the Republican Study Committee, a spot traditionally held by Tea Party-inclined, fire-breathing conservatives—the sort of people who frequently make misery for House Speaker John Boehner (R-Ohio). But most Tea Party folks don't view Scalise as one of their own because he's been close to Boehner and because he fired a key RSC aide, who now works for Senator Ted Cruz (R-Tex.).
Scalise's elevation ensures that red-state conservatives will be represented in the House leadership, which is otherwise composed of blue-staters Boehner (Ohio) and McCarthy (California). If you're a Republican House member who is agitated at your leaders and incredulous that Cantor's defeat at the hands of the Tea Party hasn't done more to further the cause, this is about the very least you could have hoped to get.
It's also an apt result. The leadership elections should send a clear message to the House Tea Party caucus that has been waging its insurgency for the better part of four years: Unless and until you field some viable candidates to take over the party, you're going to keep getting stiffed.
Before it's here, it's on the Bloomberg Terminal.
LEARN MORE