T-Mobile Just Did What Amazon's Fire Phone Could Have Done
By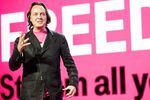 One of the more surprising aspects of Amazon's new phone is that the online retail giant famous for bargains wasn't more inventive when it came to pricing. Buying a Fire Phone from Amazon.com will feel a lot like buying an iPhone or a Galaxy. Instead, the experiments were left to T-Mobile, which announced a series of new features in an event that took place Wednesday several hours after Amazon's Jeff Bezos left the stage.
Starting June 23, people can test an iPhone 5S free on the T-Mobile network for a week. The way phone companies talk about network performance makes it practically impossible for normal people to know how good their service will be, so handing out free trials might be the best way for T-Mobile to persuade people that things have changed.
T-Mobile's network, which has traditionally lagged behind AT&T and Verizon Communications, has been catching up by investing the billions it received after AT&T's failed acquisition in 2011. On Wednesday the company touted new improvements, including the expansion of its Wideband LTE network into 16 cities, improving the speed of devices connected to its high-speed network.
According to Root Metrics, which combines such factors as average download and upload speeds and percentage of call failures, T-Mobile's network ranks No. 3 in New York and second in Los Angeles and is tied for first in Chicago. Verizon's network ranks No. 1 in all three of those markets and is either first or tied for first in 99 of the 125 markets Root has tested.
T-Mobile is also taking up an idea widely floated as a potential differentiator for Amazon: giving special treatment to streaming-media services. T-Mobile said it will not count streaming services, such as Pandora, Spotify, and iHeartRadio, against its customers' data plans. Before the introduction of the Amazon phone, speculation was that Amazon's new streaming-music service might be granted that kind of preferential status.
Of course, streaming music uses only a fraction of the bandwidth of streaming video, and only the most dedicated listeners would hit their data limits from streaming music alone. Like many of T-Mobile's pricing innovations, what the company is actually offering is peace of mind, not tangible cost savings.
T-Mobile also announced its own streaming-music service through a partnership with Rhapsody. The service, called UnRadio, comes without advertising and, unlike Pandora, puts no limit on the number of songs that can be skipped. The service is free for subscribers on T-Mobile's LTE network and costs $4 monthly for those whose device connect to its slower networks. This puts it on a par with Pandora's ad-free service and makes it significantly cheaper than paid subscription services such as Spotify and Beats.
Everything about the T-Mobile announcement seemed set to take the wind of out Amazon's sails. T-Mobile Chief Executive John Legere has even been taunting the online giant ever since news broke that its phone would be available only through AT&T. He assailed the idea of exclusive arrangements between carriers and phone companies and said that Amazon was setting itself up for failure by tying its fortunes to AT&T: "The odd thing is, big + bigger = fewer options for customers," he wrote on Twitter.
That may be true, but it's also a strange thing to say, given that his company is nearing a merger with one of its biggest competitors.
Before it's here, it's on the Bloomberg Terminal.
LEARN MORE