Southwest Is Trying to Fix a Problem With Late Flights
By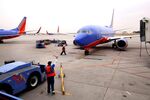 People like Southwest Airlines for many reasons: free checked bags, friendly flight attendants, and competitive fares. But being on time when you take a Southwest flight? Well, that's become a questionable proposition.
Southwest has ranked near the bottom of the U.S. Department of Transportation's monthly tally of airline on-time performance for much of the past year, with only 72.9 percent of its flights arriving on schedule during the 12 months through April 30. Only two regional carriers, Envoy (the former American Eagle) and SkyWest's ExpressJet unit, did worse in that period.
In August, Southwest dramatically tightened its aircraft turnaround and planned flight times to produce a "better, more marketable schedule," says Steve Hozdulick, the airline's senior director of operational performance. That, in turn, freed up more time for planes to fly during "the meat of the day"—from 9 a.m. to 6 p.m.—when more people want to travel, he says. It was a rational business decision to lure more customers at a time when the airline was looking to increase aircraft productivity and company revenue.
Then the law of unintended consequences struck: That schedule, and an improving U.S. economy, produced more customers than the company anticipated and more-crowded planes, just as Southwest was learning how to operate a larger model in its network, the 175-seat 737-800. That model typically takes longer to load than the 143-seat 737s Southwest has traditionally flown. Add to this the cascading effects of a late aircraft in the type of nonhub network the airline operates, along with the winter storms that struck in December and January, and you wind up with only about two-thirds of Southwest's flights landing on time. In the fourth quarter of 2013, just 71.8 percent of its flights were on time—dead last (PDF) in the industry.

The airline says it has loosened its scheduling—adding time for more turns at gates, as well as flying time. It expects to see improvements by yearend, and Hozdulick says Southwest's on-time arrivals will be in the 83 percent to 85 percent range next year. Southwest was also connecting passengers last year in more than 80 of the 96 cities in its network, a proportion that will be reduced to a more manageable level, which will help to improve on-time performance. And the carrier signed a new "airplane health management" deal this week with Boeing to monitor data from airplanes in flight as a way to detect maintenance problems early and to avoid delays.
"It really is a series of levers, and you pull these levers one at a time. You don't just yank one down really hard," Hozdulick says. Southwest's tardiness problem is primarily a matter of nine minutes—"not hours and hours" for most flights, he says. The Transportation Department counts a flight as on time if it arrives within 14 minutes of its schedule; Southwest would've had an 83 percent on-time rate during the 12 months ended April 30 if the DOT window were 23 minutes, Hozdulick says.
Southwest can expect bigger troubles if the reliability woes linger long enough for the airline to get a reputation as one that's rarely on time. After all, Delta Air Lines and Alaska Airlines are raising the bar for on-time performance and aren't shy about touting their achievements. "People want to be there on time and with their bags, and nothing else matters," says Seth Kaplan, a managing partner with Airline Weekly, an industry journal.
Before it's here, it's on the Bloomberg Terminal.
LEARN MORE