Live From New York, It's Ben & Jerry's Saturday Night Live Flavors
by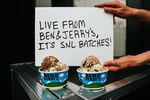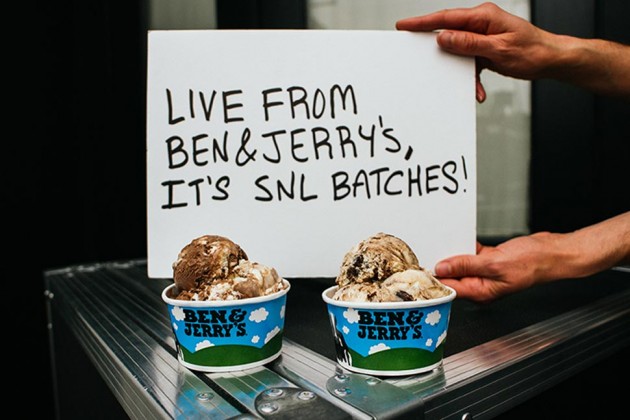 Ben & Jerry's scoop shops will be serving a line of four new flavors inspired by Saturday Night Live, a limited-time promotion to mark the show's 40th anniversary next year.
The first two SNL flavors were unveiled on Thursday: Lazy Sunday, based on the 2005 cupcake-obsessed sketch, is vanilla cake batter ice cream spiked with pieces of cupcake and a swirl of chocolate frosting; Gilly's Catastrophic Crunch, named after the character played by Kristen Wiig, is described as "a combination of chocolate and sweet cream ice creams, with caramel clusters, fudge-covered almonds, and a marshmallow swirl."
The TV show approached Ben & Jerry's last year about creating a flavor. Such cross-promotional activities aren't just good for ratings—they can succeed in selling more ice cream. As part of the deal, the Vermont-based company will pay a royalty to SNL production company Broadway Video. But based on past television-inspired flavors—Jimmy Fallon's Late Night Snack, Stephen Colbert's Americone Dream, and Tina Fey's Liz Lemon—the SNL ice cream concoctions "will boost sales," says Lisa Sholk, Ben & Jerry's associate brand manager. (Americone Dream has become one of the brand's top 10 sellers.)
It's not Ben & Jerry's first SNL tie-in. The company launched a Schweddy Balls flavor in 2011, inspired by the show's double entendre-filled sketch about a guest on NPR named Pete Schweddy talking about his family's holiday treats. ("No one can resist my Schweddy Balls," the character played by Alec Baldwin declares in the sketch.) That flavor proved successful—or, as Sholk puts it, "Schweddy Balls was off the walls."
Two more SNL-themed flavors will be released later this year. While the ice cream company declined to discuss specifics, some candidates can be eliminated from speculation. Sholk was hoping to use the Church Lady or perhaps a sketch that would lend itself more easily to flavors, such as "Coffee Talk With Linda Richman," but Ben & Jerry's couldn't get access to all of the characters from the show's four-decade run.
SNL will heavily promote its 40th anniversary season, which kicks off with a three-hour special on Feb. 15.
Before it's here, it's on the Bloomberg Terminal.
LEARN MORE