Iraqi Bond Only for the Brave as Yield Surges Amid Chaos
Arif Sharif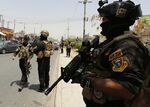 The biggest jump in Iraqi bond yields since 2011 is failing to compensate for the risk of a drawn-out battle between government forces and Islamist militants, according to VTB Capital Plc and Exotix Partners LLP.
The yield on Iraq's $2.7 billion of sovereign securities due January 2028 jumped 90 basis points since May to 7.31 percent at 4:19 p.m. in Dubai, heading for the worst month in almost three years. That compares with a 9 basis-point increase through yesterday for emerging-market dollar debt in JPMorgan Chase & Co.'s EMBI Global Diversified Index.
"It's for the brave," Stuart Culverhouse, chief economist at investment bank Exotix, said by phone from London yesterday. "One wonders whether the bullish case can withstand the disintegration of the government and any impact on oil revenue. There's a significant downside risk."
While debt payments may not be an immediate concern as most of the country's oil industry is in the south, away from the main battle zone, the sectarian conflict risks pushing OPEC's second-largest oil producer closer to civil war. Militants from the Islamic State in Iraq and the Levant fought the army in a town near Baghdad in the north yesterday and at the Baiji refinery, the largest crude-processing plant in the country.
Fired Officers
The escalating turmoil could push yields higher, according to Abu Dhabi-based asset manager InvestAD and VTB Capital. The yield climbed six basis points today, according to data compiled by Bloomberg.
"Investors are taking a breather to see if the U.S. will take any measures" to defuse the crisis, Ram Mohan Nataraja, a vice president of treasury at Invest AD, said by phone on June 17. They "would prefer to reduce risk because of a lack of sufficient information of developments on the ground," he said.
Prime Minister Nouri al-Maliki's Shiite Muslim-led government is seeking to reassert control over territory held by Sunni ISIL, whose advances in the north put in doubt his rule over a unified Iraq. Maliki fired at least four senior officers yesterday after the collapse of the army's northern command last week and the capture of the city of Mosul.
Drone Missions
The U.S. is increasing unmanned, unarmed drone missions in Iraq to support counter-terrorism efforts, Treasury Secretary Jacob J. Lew said on a trip to Israel yesterday. The Iranian people will spare no effort to protect Shiite holy sites in the Iraqi cities of Karbala, Najaf and Samarra, President Hassan Rouhani said, according to Mehr news agency.
Given "the noise from the U.S., and Iran potentially throwing its support behind those guys, this is not going to tumble out of control," Kevin Daly, a portfolio manager at Aberdeen Asset Management Plc, which oversaw $541 billion in assets at the end of March, said by phone from London yesterday. At the current price "there's good value there and Iraq's ability and willingness to service its debt is strong," he said.
Aberdeen bought more of the bonds this week, Daly said.
A stalemate between the government and ISIL appears likely for the near term in the absence of external intervention, Jean-Michel Saliba, an economist at Bank of America Merrill Lynch, wrote in a research report June 17. In a negative scenario, a descent into chaos with an informal partitioning of the country will affect bond holders with the outcome depending on who has control and operations over the main oil facilities in southern Iraq, it said.
"Right now, we are very underweight on Iraq," Raza Agha, chief economist for the Middle East at VTB Capital, said by phone from London on June 17. "For Iraq's sustainability as a nation state it's also a matter of winning back the hearts and minds of Sunni Arabs, which will take a long time."
Before it's here, it's on the Bloomberg Terminal.
LEARN MORE