How Yelp Handled a Pop Star's Social Media Attack on a Local Dry Cleaner
by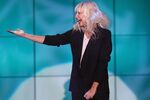 For a few moments this week, a semi-obscure Australian pop star turned a New York dry cleaner into an Internet celebrity. Sia Furler, a singer-songwriter known for a song used in the closing montage of the early-aughts HBO hit Six Feet Under, started a mini-outrage on Tuesday when she tweeted her displeasure at Metropolitan Garment Ceaning, a dry-cleaning business in the Ozone Park neighborhood of Queens.
Furler, or Sia, as she is mononymously known, tweeted that the dry cleaner had ruined some of her favorite things and had refused to take responsibility. She asked her 465,000 Twitter followers to help her get some payback:
That plan, however hastily conceived, seems to have backfired. As of this afternoon, Metropolitan Garment's Yelp profile has four recommended reviews, three of which give the dry cleaner the maximum five-star rating. Meanwhile, the online review site, whose content guidelines dictate that reviews "should be unbiased and objective," has removed 39 reviews. Stricken reviews include this note captured by Gothamist: "They are the worst people on earth. The 'laundry Nazis.'"
For many small business owners, Yelp would seem an unlikely hero in this tale. For years, the company has been the subject of complaints from local merchants who believe that bad reviews will be displayed prominently on their profiles if they don't buy advertising from Yelp. Business owners have also complained that they're helpless to defend themselves against false and malicious reviews. Yelp says advertisers can't buy their way out of bad reviews.
Yelp's filter can probably be tricked, for users who know how to game the system. A user named John H. from Bellevue, Neb.—some 1,200 miles from New York—managed to get the following one-star review onto Metropolitan Garment's profile on the day Sia posted her tweet: "Went here. Absolutely awful. Rude, mean, expensive and Ruined my clothes. Don't recommend to anybody."
Before it's here, it's on the Bloomberg Terminal.
LEARN MORE