High Times on Wall Street
The iconic stoner magazine starts an investment fund to nurture the pot business
by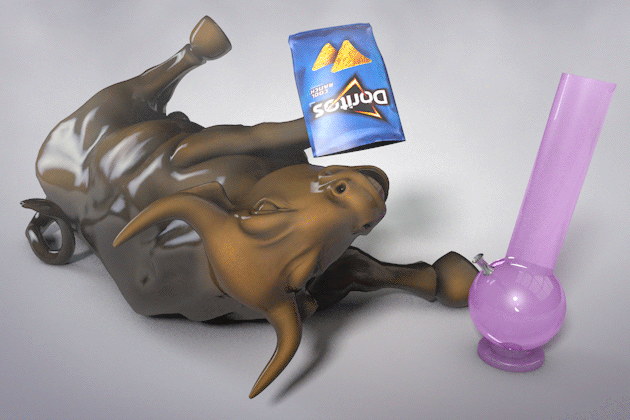 When a pot smuggler named Tom Forcade approached Michael Kennedy in 1974 with his plan for a magazine devoted to helping Americans grow weed, Kennedy asked, what's the point? "He said, 'The point is, if the government cannot control the means of production of a commodity, then their prohibition is bound to fail,' " Kennedy recalls. "Well, 40 years later, we have 'em trembling, don't we?"
The magazine, High Times, has survived as an icon of dope culture, and Kennedy, a criminal defense lawyer, has improbably ended up as its controlling owner. Now, with marijuana legal in some form in 22 states, the counterculture institution is aiming to raise $300 million for the High Times Growth Fund, which will make private equity investments in the marijuana business.
In his blue button-down shirt, tie, and rimless glasses, Kennedy could be mistaken for a partner at a Wall Street firm as he seats himself behind a massive desk in his office on West 57th Street in Midtown Manhattan. Classical music plays softly, and gold-stamped leather volumes shine behind the glass doors of bookcases. Outside his door lie the magazine's offices, complete with bearded staffers in jeans and Led Zeppelin and AC/DC posters. The June cover story, "Mount Kushmore," chronicles "an epic smoke-out with hip-hop's highest" and is illustrated with the heads of Snoop Dogg and other rappers growing out of a rocky cliff.
Kennedy met Forcade in 1973, when he helped him get a grand jury subpoena dropped. The next year, Forcade asked Kennedy to serve as legal counsel for the magazine. He already represented Timothy Leary and went on to defend Black Panthers co-founder Huey Newton and, later, Ivana Trump in her divorce from Donald.
Forcade killed himself in 1978, but the magazine lived on, run by a trust he'd established with his dope profits. Kennedy continued as legal counsel, mostly without pay, he says, because he believed in the fight against misguided drug laws. When the trust expired in 2000 and High Times converted to a private company, Kennedy ended up with a controlling stake as the longest-serving employee.
While continuing his law practice—and a high-profile social life in Manhattan and the Hamptons—he was content to be a mostly passive owner. That changed in 2012, when voters in Washington and Colorado approved measures to legalize recreational pot. Those votes inspired him to launch a U.S. version of the "Cannabis Cup," which he describes as part trade show, part "blowout smoke-out," that High Times started holding annually in Amsterdam in 1987.
High Times has organized 12 Cannabis Cup events in the U.S. in the past two years. The most recent, in April in Denver, drew 38,000 visitors and 700 exhibitors, a record. "A lot of people said, 'Jeez, I didn't know High Times still existed,' " Kennedy says. The Cannabis Cup and the increased interest in legal marijuana have helped the magazine's Web traffic soar from 300,000 unique readers a month to 5 million, while advertising has doubled, Kennedy says. The magazine is profitable, he adds, while declining to disclose circulation figures.
"Hundreds and hundreds" of phone calls and e-mails began pouring in, Kennedy says, from entrepreneurs in need of funds and investors wondering where to put their money, prompting three people on the business side of the magazine to pitch Kennedy on starting a private equity fund. His first reaction: terrible idea. "My fear was the sharks would take us over," he laughs. "I'd be working for Blankenfein, or whatever the hell his name is, in a matter of weeks."
Kennedy quickly changed his mind and began to see an investment fund as an extension of the magazine's founding mission. Support new businesses and a free market, his thinking went, and it'll become impossible to roll back the legalization. He started planning to raise $100 million for a fund to invest in promising pot-related businesses of all kinds.
He was soon to have partners. Jordan Lewis, a real estate developer's son who grew up on Manhattan's Upper East Side and has a veterinary degree, founded Silverpeak Apothecary, a medical marijuana dispensary, in Aspen in 2009. Colorado began allowing sales to recreational users this year, and Lewis is in the midst of an expansion to triple his retail space and add a 25,000-square-foot greenhouse to his growing operation.
When he started Silverpeak, Lewis got agricultural advice from Ben Zaitz, a third-generation dairy farmer from New Jersey he'd met kite surfing off Long Island. Zaitz has long combined farming and finance. He started the business-to-business website Farms.com in 1995 and later co-founded two agricultural investment funds. At first he viewed cannabis as a "curiosity," he says. Visits to Lewis's operation impressed him, particularly a computerized "fertigation" system designed to deliver water and nutrients to each plant through individual drip hoses. The wave of legalization rolling across the country kindled his professional interest. By early this year, he and Lewis had hatched a plan to create their own fund. "This is one of the greatest opportunities in both agriculture and medicine of my generation," Lewis says. "To me, it was obvious all along."
In early April, Lewis saw a New York Post gossip page item about High Times that mentioned Kennedy. Lewis had met the lawyer socially but connected him to High Times only after seeing the story. Lewis, Zaitz, and Kennedy agreed to talk at the Cannabis Cup in Denver and decided to join forces and boost their fundraising target to $300 million.

Reliable figures are hard to come by, but the market for marijuana is large and growing. From 2002 to 2010, the amount of marijuana consumed in the U.S. likely increased about 40 percent, with consumers spending $30 billion to $60 billion in 2010, according to a February report by Rand Corp. for the Office of National Drug Control Policy.
Regulatory and legal questions, as well as the stigma associated with cannabis, muddy the prospects for investors. Privateer Holdings, another private equity fund focusing on the industry, is an instructive example. Privateer started by approaching 10 billionaires, all outspoken advocates of legalization, all of whom passed, says Chief Executive Officer Brendan Kennedy (no relation to Michael Kennedy). It took Privateer 18 months starting in 2011 to raise $7 million. Over four years, executives of the fund approached 20 banks about setting up a basic business checking account. Seventeen turned them down, and the three that initially agreed ended up closing the accounts.
The money is starting to flow more easily. Privateer raised $15 million in February and expects to secure more than $50 million in July. One of the companies it has invested in, Leafly, is an online competitor to High Times, calling itself "the world's largest cannabis information resource."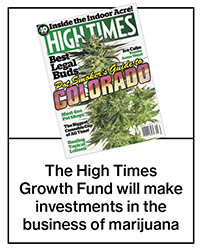 Brendan Kennedy says the High Times name and reputation could be a liability in the financial community. "A lot of what we're doing is the opposite of that," he says. "We're saying this is a mainstream product consumed by mainstream people, and why can't mainstream professional, intelligent brands be created in this industry? We're trying to avoid the clichés."
In late April, Lewis unveiled the High Times fund publicly for the first time, at an agricultural investing conference at the Waldorf Astoria in Manhattan. The next day the team that will manage the fund gathered in a penthouse office in the Novotel—which the Lewis family developed—just north of Times Square. Around a table, men in plaid shirts clicked at their devices. In addition to Lewis and Zaitz, they are Mike Woods, a former executive with Red Robin Gourmet Burgers; Zaitz's son David, a former investment banker; and Ivan Wolff, a 25-year veteran of private equity, who has focused on biotech, life sciences, and electronics.
Lewis has flown to Uruguay, which legalized marijuana in May, to scout for investment opportunities, and is developing a plan to start a pot pharmaceutical company. At Silverpeak, he sees a lot of middle-aged female customers switching to pot from sleeping pills such as Ambien. He notes that the market for consumable sleep aids is $22 billion and that there's potential in breeding and processing strains of cannabis to replace such drugs.
Part of the plan is to bring more professional management to the industry. Edible forms of cannabis account for 50 percent of the market, Zaitz says, yet most producers don't control their supply. They need help in creating businesses where they can ensure quality at every stage of manufacturing, essential for a product that "gets into your head," as he puts it.
Lewis and his colleagues have been making the rounds, speaking with potential investors willing to commit at least $500,000 each. Kennedy, who once thought he wouldn't live long enough to see the legalization of pot, has no doubt they can raise the money. "Where we are is at this point where both the demand and the supply are on the rise," he says. "Hence the High Times Growth Fund to help allow people to make a living from it, because the banks are not."
Before it's here, it's on the Bloomberg Terminal.
LEARN MORE