Harley Goes Electric in the Race for New Motorcycle Riders
By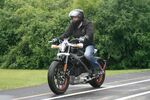 The name Harley-Davidson doesn't necessarily call to mind quiet efficiency, but a planned rollout of an electric motorcycle is generating a lot of buzz for the Milwaukee-based company.
Bloomberg News highlighted the introductory plugin hogs in an article on Thursday morning, and interest in them quickly swamped the Harley-Davidson website for the electric endeavor known as Project LiveWire. Harley's plan, in short, is to take 22 of the new bikes on an impromptu tour of the country, to see if they draw enough intrigue to be added to the company's current line of about 30 models.

Harley's chief marketing officer, Mark-Hans Richer, says the company likes to route some of its research and development decisions through its customers. "We couldn't imagine this sitting on a turntable at a show with models handing out brochures," he told Bloomberg. "It needed to be something real, something that customers could have a firsthand experience with."
Harley fans will have a chance to ride the bikes and, more important for the company, so will people who don't own a Harley—or even ride motorcycles, for that matter. Electric bikes, like Harley's recent appeal to female riders, are a chance to expand the pool of buyers beyond middle-aged men. "All our outreach group thinks Harley-Davidson is very cool, and our job is to make it more relevant to them," Chief Financial Officer John Olin said at a recent meeting with investors.

It's a savvy strategy to broaden the motorcycle market overall. What's more, the brand is probably strong enough to withstand some tinkering. The "repurchase intent" among Harley owners is higher than 80 percent, so Harley dudes aren't at risk of jumping on a BMW anytime soon.
As for the signature Harley sound—the snarling chop—the company has an electric version that's sort of like a stereo simulation, if you will. Richer likens it to a fighter jet landing on an aircraft carrier. The sound is "high-toned," he says, "but still very strong."
Before it's here, it's on the Bloomberg Terminal.
LEARN MORE