Gadi Amit: Amazon's Fire Phone Is a Missed Design Opportunity
Gadi Amit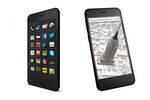 Gadi Amit is the president of NewDealDesign, which designed the Fitbit, the Lytro camera, and Google's Ara phone. We asked him what he thought of Amazon's new phone. Here's what he told us:
On Wednesday, Amazon introduced its much anticipated smartphone, announcing its intention to become a major player in hardware. The online retailer has transitioned from its niche product, the Kindle, to mainstream consumer electronics, with Fire TV, and now to the giant market of mobile phones. But its design approach shows little consistency, and in the case of the Fire phone it's downright generic.
The original Kindle was clunky but had a clear, focused intent. The second model was truly beautiful and elegant. If there's a common thread among Amazon's pre-phone designs it's a tendency toward the strictly utilitarian, which, if the company had carried it forward, could have resulted in a robust look and feel. IBM's 1990s ThinkPad is a great example of such purposefulness superbly executed—a matte black slab with a few well-placed styling cues. Amazon's Fire TV also takes that pure-box form. Imagine how cool it would have been if the Fire phone team had ditched the curved edges popularized by the iPhone and presented an unapologetic black slab like 2001: A Space Odyssey's monolith.
Instead, Amazon went with a front-face signature that too closely resembles an iPhone, even while virtually every other mobile phone maker has tried to distinguish itself from Apple's cash cow. Cementing the similarity is a shiny back with an oversize logo.
New modes of interaction and an improved mobile shopping experience with 3D imaging are touted as the real innovations. These intelligent interfaces are fashionable and look great on paper, but it's hardly certain they will catch on with users. Seriously, how many iPhone owners really talk to Siri? With the Fire phone, Amazon has clearly privileged a service—the ability to buy stuff from Amazon with ease—over industrial design.
It didn't need to be that way. Ideally, there should be no competition between 3D-imaging tech and creating an object users are proud to hold in their hands.
Before it's here, it's on the Bloomberg Terminal.
LEARN MORE