Crude Jibes Betray Polish Banker's Loose Lips in Scandal
Piotr Skolimowski and David McQuaid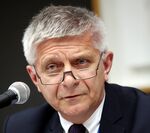 When Polish central bank Governor Marek Belka spoke at a conference in London two years ago, he was at the top of his game, even chastising more developed countries for causing the financial crisis.
"It seems the west has lost its so-called monopoly of wisdom," Belka told the May 2012 annual meeting of the European Bank for Reconstruction and Development. "I say this without Schadenfreude, these are facts."
Spin forward to this week and it's his blunt talk that now risks undermining a career that has spanned the top jobs in the Polish government, a director at the International Monetary Fund and envoy to Iraq.
Secretly taped comments from Belka on political support for the governing party and crude jibes about a central bank colleague have caused a scandal in Poland that threatens to engulf Prime Minister Donald Tusk and disrupt the running of the European Union's biggest eastern economy. Belka said the recording was "manipulated."
"If the Governor Belka got involved in politics, that disqualifies him from leading the Monetary Policy Council," rate setter Andrzej Rzonca told the Gazeta Wyborcza newspaper. "He will need time to consider if staying on won't hurt the central bank's credibility."
'Extraordinary Situation'
Poland may be forced into early elections, Tusk, the country's longest-serving leader since the fall of communism 25 years ago, said yesterday after a call for a vote from his coalition partner. President Bronislaw Komorowski said the country may have to set a ballot in motion because of what he called an "extraordinary situation."
"He's got a sardonic outlook on life, which can sometimes get him in trouble," said Anna Fornalczyk, an economics professor who worked with Belka at Lodz University in his hometown in the 1980s. "He also tends to be brutally honest."
At the heart of the uproar are tapes of a July 2013 conversation in a Warsaw restaurant between Belka, his senior adviser and Polish Interior Minister Bartlomiej Sienkiewicz.
In the recordings published by Wprost magazine starting June 14, Belka can be heard asking for the dismissal of the then finance minister as a condition for the central bank to implement policies that would help the government foster economic growth before elections scheduled for 2015.
'Bestows Gravitas'
He suggests the Monetary Policy Council, which sets interest rates, would be a hindrance. Belka goes on to discuss how one of the 10 members who had been the key swing voter for council decisions, Jerzy Hausner, liked his "pivotal" status and would go along with it because "he bestows gravitas and thinks he's well hung."
Hausner skipped this week's MPC meeting and will make a statement on July 1, when the MPC begins a two-day rate meeting, PAP newswire reported yesterday, citing him. Hausner, who doesn't use a mobile phone, didn't respond to calls to his office number and e-mails.
The tapes are now the subject of an investigation into privacy ordered by the prosecutor's office, whose officials raided Wprost's offices this week.
Belka, 62, said he never broke the law, the conversation wasn't for public consumption and has no plans to step down. He wasn't available for interview, his spokesman said by text message yesterday.
'Unkind Words'
"We are unfortunately using expletives, some unkind words," he told the TVN24 channel. "It was just a normal conversation that you and I and all of us conduct."
Investors praised Belka as a central bank chief, if not as a candid talker. While he may have overstepped the mark "morally," he didn't abuse his office and it shouldn't lead to his resignation, said Viktor Szabo, who oversees emerging market debt at Aberdeen Asset Management in London.
Under Belka's stewardship, the central bank cut interest rates to a record-low 2.5 percent between October 2012 and July last year and has kept them there since. The economy, the only one to avoid recession in the European Union since the debt crisis began, is poised to double its pace of growth from last year to 3.2 percent in 2014, according to EU forecasts.
"It's normal human behavior that in a private discussion you talk about some topics and some people in a slightly inappropriate way," Michael Ganske, who helps manages $8 billion in currencies and bonds as the head of emerging markets at Rogge Global Partners Plc, said in an interview. "For me, it's not really a game-changer."
Political Involvement
The zloty weakened the most in three months the day the recordings were published before clawing back some of the losses to trade 0.7 percent weaker against the euro on the week. Yields on five-year notes declined in the past three days after a 13 basis-point increase at the start of the week.
For Lutz Roehmeyer, who helps manage $1.1 billion of emerging-market assets at Landesbank Berlin Investment GmbH, it confirmed how central banks operate.
"As an investor, you always thought that in any case there was always some kind of political involvement in central banking," Roehmeyer said from the German capital. "We always thought there was interference -- and there was interference."
Not everyone is willing to accept that. Belka's predecessor as central bank governor and the father of Polish economic reforms in the early 1990s, Leszek Balcerowicz, is calling for him to resign. The scandal shows unconventional policies aren't working, he said.
"Central banks enter party politics and as a result, they become political actors and invite political pressures," Balcerowicz said by phone on June 18. "This is in sharp conflict with their original mission."
Inflation Ayatollahs
Belka, the only Pole to hold all three posts of central bank governor, prime minister and finance minister, has a track record of making cutting comments.
His public career began in 1997, when he became finance minister for eight months. He returned to the job in 2001 and during that stint called central bankers "ayatollahs" for their push to drive down inflation, according to one of the members at the time.
"We've fought many times and I've been tongue-lashed by him, first at the university and then in public life," Boguslaw Grabowski, the former policy maker who studied and worked with Belka at Lodz University. "This never shook my confidence in his judgment. I prefer a guy who knows his stuff to someone who hides behind soft words."
Belka quit the government in 2002 after falling out with then-Prime Minister Leszek Miller. He said he didn't want to get into a "kicking contest with a horse."
Jennifer Lopez
His international career began a year later, when he became director of the U.S. office of reconstruction in Iraq. He returned to Poland to become prime minister in 2004 before going to work for the United Nations and to head the IMF's European Department in 2008.
During a hearing about Polish insurer PZU SA in February 2005, Belka, then prime minister, was asked whether he knew the chief executive officer of Eureko, the Netherlands-based company that fought an eight-year battle for control before selling its stake: "I also know Jennifer Lopez, but in a different sense," he responded.
"Malicious wit is a hallmark of intelligent people," Jacek Podoba, the CEO of Warsaw-based insurer TU Europa who has known Belka since the 1990s and worked with him in Iraq in 2003, said in an interview June 18. Podoba said he saw another side of Belka in Baghdad.
Baghdad Bunkers
"We were under round-the-clock threat of a terrorist attack, shuttling between underground bunkers, abandoned hotels and residential containers," he said. "Only someone with guts and character would be willing to do this."
Born in 1952 in the city of Lodz, about 130 kilometers (80 miles) southwest of Warsaw, Belka went straight to the second grade in the primary school and became a professor two decades ago. His parents were engineers and consulted a psychologist before allowing him to study economics, according to a 2001 profile by Polish magazine Przeglad.
Fornalczyk remembers asking Belka for advice when they were studying how communist-era companies worked, or didn't.
"You could already see that they simply can't be fixed and a total overhaul is required, so I went to Marek and asked him: 'Look, maybe you could come and help us, share your American experience,'" Fornalczyk recalled. "He thought for a bit and said: 'You know, if I wrote what I'm really thinking then my career would be finished."
Before it's here, it's on the Bloomberg Terminal.
LEARN MORE