Coach Shows Its Ugly Side With Vanishing Revenue
By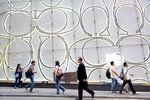 Coach is still scrambling to find its fashion footing, and things will only be getting uglier for the company in the near future.
The New York-based fashion house had a dismal report for investors at Thursday's annual meeting. In the fiscal year ending in June, Coach estimated stores open at least a year will collect almost one-fifth less revenue than they did last year.
Specifically, Coach is having trouble wooing young customers and weaning itself off frequent discounts that move off-trend products but eat into profit margins. "It's not about the next 'it' bag or the next 'it' collection, but the journey," Chief Executive Victor Luis said.
It's also about the competition. In the near-luxury market where Coach has long made its money, Michael Kors can do no wrong and Kate Spade has been coming on strong as well. Lately, Coach's best-performing products are the ones that cost four figures, a little more than a lot of its recent rivals.
Shares of all three companies took a beating today, and Coach stock fell roughly 10 percent. But recent results suggest customers aren't steering clear of $400 handbags—just the ones with the Coach logo.
Before it's here, it's on the Bloomberg Terminal.
LEARN MORE