China Clamps Down on Critical Reporting
By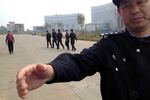 China's journalists have been having a rough go of it lately. They've always had their copy censored by the party propaganda departments. There was the Marxist training followed by an ideology exam that had to be taken earlier this year. And there's the forced public confessions that at least a few of those scribes nabbed by China's police have been subjected to.
The journalists have always faced the risk of going to jail for writing a story perceived as challenging party control in any way (32 writers behind bars as of the end of last year, according to the Committee to Protect Journalists). Moreover, Chinese authorities have lately been harassing and locking up the kind of activist rights lawyers who might be willing to represent independent-minded journalists who run afoul of the authorities.
The latest: new rules that put more restrictions on what reporters are allowed to write. Yesterday, China's State Administration of Press, Publication, Radio, Film, and Television announced that reporters are barred from writing "critical" pieces without first getting permission from their employers. The rules don't specify what constitutes critical reporting, leading many to worry they will be used as an excuse to crack down further on independent reporting.
The new rules also bar reporters from "setting up their own websites, video sites, or writing internal reports with critical content" as well as "conducting interviews or writing reports outside their fields," the Shanghai Daily reported on June 19. Less worryingly, journalists are banned from taking bribes or extorting money from their sources. Those who break the new rules will have their official press registrations taken from them (a requirement to report legally in China today) and could face jail time if they break other criminal laws.
Since Xi Jinping was appointed party secretary in November 2012, Chinese "authorities have arrested more journalists and bloggers, cracked down harder on cyber-dissidents, reinforced online content control and censorship and stepped up restrictions on the foreign media," wrote Reporters Without Borders in its 2014 press freedom index released earlier this year. China came in 175th out of 180 countries, scoring better than only Somalia, Syria, Turkmenistan, North Korea, and Eritrea.
Before it's here, it's on the Bloomberg Terminal.
LEARN MORE