BlackBerry Says Growth in Sight as Turnaround Takes Hold
Scott Moritz and Christina Pellegrini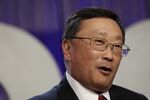 BlackBerry Ltd.'s new boss says he's stabilized the struggling smartphone maker enough to now set his sights on growth in order to "save the patient."
BlackBerry shares surged the most in six months after the company reported a narrower loss in the fiscal first quarter than analysts had estimated. As cost cuts, asset sales and cash preservation help drive Chief Executive Officer John Chen's turnaround, the company is still planning to reach break-even cash flow by the end of this fiscal year. Chen also expects to return to profitability during the year that ends in March 2016.
"I am really at the tail end of our restructure programs," Chen, who took over in November, said on a conference call today. "Right now, everything that I'm doing is judiciously starting to lay the groundwork for revenue growth for next year."
BlackBerry reported today a loss of 11 cents a share in the fiscal first quarter, excluding one-time items, better than the 25-cent loss predicted by analysts on average, according to estimates compiled by Bloomberg. Revenue in the quarter that ended May 31 fell to $966 million, also beating the $954 million that analysts had estimated.
Chen is limiting the company's dependence on its declining smartphone business while trimming expenses and focusing on business customers, software and mobile services like its BBM instant messaging. Last month he said the odds of a turnaround were 80-20, up from a previous prognosis of 50-50.
'Wonderful Job'
"John Chen is doing a wonderful job so far," shareholder John Davidson said at the company's annual meeting in Waterloo, Ontario. "North America is still suffering but some of the other parts of the world are doing quite well. Hoping that he keeps up the good work."
BlackBerry shares rose 9.7 percent to close at $9.09 in New York, the biggest one-day jump since Dec. 20.
Even with today's gain, the stock is down 36 percent in the past year, and analysts estimate on average that it will be trading at $7.96 a year from now.
"Obviously I'd like to see the stock price a lot higher, but I don't think that's in the cards for a while," Davidson said.
Chen, who took the helm after a failed process to sell the company, has sold most of the company's property in Canada, eliminated jobs and moved phone production to Foxconn. The company said adjusted operating expenses were down 57 percent in the quarter from a year ago.
Net Income
Net income in the quarter was $23 million, compared with a loss of $84 million a year ago. Revenue was down from $3.1 billion a year earlier, when the company had just begun selling the Z10 phone.
James Yersh, BlackBerry's chief financial officer, said on the conference call today that he doesn't expect the company's cash level to fall below $2.5 billion at any point this year. BlackBerry had $2.7 billion in cash and short-term investments as of May 31, up from $2.5 billion at the end of the previous quarter. Long-term debt fell to $1.34 billion from $1.63 billion in the fourth quarter.
"We're a viable company, we have a strong balance sheet, we have lots of cash, and now we are starting to focus on growth," Chen said today in an interview with Emily Chang on Bloomberg West.
Chen is under pressure to stimulate new growth from software and secured communications fast enough to offset declines in phone sales. He's aiming for new business in mobile data services like BlackBerry Messenger, network security for all mobile devices and a bigger role in connecting everything from heart monitors to automobiles to the Internet as mobile service spreads beyond phones and tablets.
Smartphone Sales
The company said today that it's aiming for $100 million in revenue in fiscal 2016 from BBM.
BlackBerry will introduce its new Passport phone at a September press event in London, Chen said on the conference call today. That release will be followed later this year by the Classic phone, a combined touchscreen and physical keyboard phone that resembles some of the original Bold models.
BlackBerry recognized revenue on 1.6 million smartphones in the fiscal first quarter, helped in part by the introduction of the lower-priced Z3 phone in Indonesia last month. Mark Sue, an analyst at Royal Bank of Canada, predicted 1.5 million, and Rod Hall, an analyst with JPMorgan Chase & Co., estimated 1 million phones sold.
BlackBerry's share of the smartphone market had been quickly vanishing. The company's global shipments are projected to fall almost 50 percent this year to about 9.7 million smartphones, according to a forecast in May from research firm IDC.
Market Share
BlackBerry's worldwide market share will slide to 0.8 percent in 2014 and may slip to 0.3 percent by 2018, IDC said. The company's operating system accounted for 1.9 percent of the market in 2013. As recently as late 2010, its global market share was 19 percent.
Chen said in an April interview that he's giving the company six to eight quarters to replace declining hardware sales with higher-margin software revenue. In the first quarter, 39 percent of revenue came from hardware, while 54 percent of sales were generated by services.
With most of the steep cuts now behind and the business stabilizing, Chen was asked on Bloomberg TV today if he would consider selling the company.
"I have a duty to take a look at such offers, but I'm not seeking one," Chen said. "If you offered me $100 a share, I'd probably call you back."
Before it's here, it's on the Bloomberg Terminal.
LEARN MORE