Argentina Keeps Switching Signals on Debt Talks
By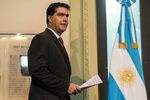 Argentina's leaders have "bordered on the erratic," as Bloomberg News reports today, in their fast-changing statements about how and whether they'll pay holdout creditors.
An article I wrote in the latest issue of Bloomberg Businessweek covers the news through June 18. The last development before the magazine went to press was that lawyers for Argentina said in court that government officials would travel to New York to negotiate with the holdouts, who are led by billionaire hedge fund kingpin Paul Singer.
On Thursday, Argentina's cabinet chief, Jorge Capitanich, said there's no Argentine mission going to New York for talks after all. He said the country is working on paying bondholders under Argentine law to skirt the U.S. ruling.
"They're acting like a wounded animal in a corner," Jorge Mariscal, chief investment officer for emerging markets at UBS Wealth Management, which oversees $1 trillion in invested assets, told Bloomberg News. "They don't really know which way to turn that will ultimately solve their problems and save face internally. I think part of it is negotiating tactics, but I think more than anything else it's not exactly knowing what to do."
The back story is that Argentina defaulted in 2001 on $95 billion in debt. Holders of 92 percent of the bonds accepted exchange offers in 2005 and 2010 of new bonds worth 30¢ on the dollar, but some—including the Singer-led group holding $1.3 billion in old bonds—refused the exchange. U.S. courts ruled that Argentina couldn't pay on the new bonds without paying the Singer-led group in full. The U.S. Supreme Court earlier this week refused to hear Argentina's appeal.
Argentina could afford to pay $1.3 billion but is afraid that if it does so, other holdouts will demand the same treatment and the total payout will come to $15 billion, which is more than it can afford. The country owes $900 million on the new bonds on June 30, so it's scrambling to come up with a way to avoid default.
Before it's here, it's on the Bloomberg Terminal.
LEARN MORE