American Apparel Founder Dov Charney Finally Gets Fired
By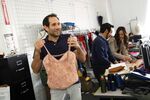 Dov Charney, the American Apparel founder known for strolling through factories in his skivvies, is being ousted from his chief executive seat for alleged misconduct.
The Los Angeles company is not saying what exactly Charney did, although it stands to reason the transgression was greater than an al fresco factory tour. The board of directors said it will fire Charney after a contractually mandated 30-day period. "We take no joy in this, but the board felt it was the right thing to do," Allan Mayer, the company's co-chairman, said in a statement. American Apparel's chief financial officer, Joh Luttrell, has been named interim chief executive.
Brean Capital analyst Eric Beder wrote: "We expect the sordid details to become apparent in the near term."
Charney is no stranger to controversy. In 2011, a former employee accused him in a lawsuit of retaining her as a sex slave, and the "legal proceedings" section of the company's annual reports are perennially full of charges from female workers. Charney, however, has weathered those charges to date.
Last year, he received compensation valued at $1.07 million, including a salary of $832,000. In 2012, he did much better, making $14.5 million, including $12.5 million in stock awards.
Personal misconduct aside, the American Apparel board was probably already questioning Charney's business strategy. The company has grown increasingly shabby in recent years. In 2007 the company posted a respectable $15.5 million profit on $387 million in sales. It has steadily increased revenue in the years since as costs—driven by heavy debt payments—have grown even faster. American Apparel has posted a loss in each of the past four years, almost $270 million all told. In the most recent quarter, sales at stores open more than a year slipped 7 percent.
Firing Charney, however, puts the company in a bit of a pickle, since it triggers a default clause in one of American Apparel's loans. If the company can't persuade its lenders to let it continue to pay the debt according to current terms, it could be forced into bankruptcy, according to an SEC filing on Wednesday.
The company's greatest asset, meanwhile, may well be its U.S. manufacturing capacity at its 800,000-square-foot warehouse in Los Angeles. At the moment, slightly more than one in four of American Apparel's dollars come through its wholesale channel, as brands snatch up its Made-in-the-USA T-shirts and sweatshirts to screen-print with their own designs and corporate logos.
Before it's here, it's on the Bloomberg Terminal.
LEARN MORE