Why Adobe, Cruising in the Cloud, Is Bothering With a Pen
By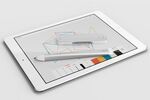 The cloud is a beautiful place to do business. It supplants a factory and permits a seamless and instant end run around delivery vans and retail shops. But it's also, well, somewhat impersonal. That's one reason Adobe Systems, a company that has built a phenomenal money machine by routing design software such as Photoshop through the air, is going back into the hardware business.
This morning Adobe unveiled a new digital pen and digital ruler, respectively dubbed the Ink and the Slide. Both were designed to noodle around on a tablet computer and sync seamlessly with the company's suite of design programs. The pen also has a fingerprint scanner that lets it quickly recall a bunch of personalized settings.
Michael Gough, Adobe's vice president for "experience design," said the pen and ruler—which sell as a set for $200—are designed to function as "an artifact" of the company's tie to customers, a constant reminder that a screen full of ones and zeroes can't offer.

"We now have this kind of throw-it-over-the-fence relationship" with customers, Gough said recently over coffee in Manhattan. "As the software boxes disappear, we're losing our last big, tangible connection."
Hard-core designers don't need solid reminders of how much they use Photoshop, InDesign, and the like; Adobe reminds them every month with a subscription bill. The company is betting a cool-enough pen can draw in casual users and attract a whole new class of customers, such as kids, closet artists, and conference-room doodlers. "Imagine if we could convince everyone they're a designer?" Gough said.
Most of today's biggest tech companies have their fingers in hardware as well as software. Apple, of course, has its phones supercharged with an ecosystem of apps. Google has it algorithms, phones of its own, and now a bunch of really slick thermostats and smoke detectors made by Nest Labs, which it bought in January for $3.2 billion.

One problem with those deals is the old-fashioned business model they require. Adobe has not only to make its new pens, but also to figure out where to sell them, ship them, and service them. It follows that the company doesn't have a lot of expectations for the Ink and Slide when it comes to direct return on investment. "It's the kind of innovation you do when you don't have to worry about making money," said Gough.
At the moment, Adobe can afford to burn some cash. In the most recent quarter, the company added about 464,000 subscribers to its Creative Cloud, bringing paid membership up to 2.3 million. Slightly more than half of Adobe's revenue now comes from "recurring sources," such as software subscriptions. This morning the company's shares surged by almost 10 percent to a record high—a fever line Gough and his team should be thrilled to doodle.
Before it's here, it's on the Bloomberg Terminal.
LEARN MORE