When to Trade Less Money for Faster Payment
By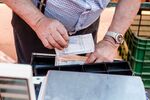 Question: I have contracts with very large companies and they are pushing payments out to the 120-day limit. Some of them offer shorter payment cycles but I have to accept a discount on the amount owed to me. How's a small business supposed to survive with this kind of pressure on the bottom line? Should I take these discounts for the sake of my cash flow?
Answer: Your question illustrates one of the reasons it's so tough for small businesses supplying big companies. While larger vendors probably have at least some negotiating muscle with clients such as big box retailers or giant manufacturers, small suppliers usually don't—unless their products are absolutely unique in the market.
Your dilemma: You need the business the big guys are offering, but that means you have to accept it on their terms—even if they don't want to pay you for four months.
"Imagine you run a restaurant. Patrons come in, eat dinner, drink wine, and walk away happy. Your restaurant then bills them. And gets a check four months later. Tough stuff," says attorney Emily Chase Smith, author of The Financially Savvy Entrepreneur: Navigating the Money Maze of Running a Business.
The only way to survive when payments are dragged out over months is to be "abnormally, obsessively, ridiculously tuned into cash flow," she says. "Until you have a fantastic cushion, you want to know your cash position each and every day, because biggies like payroll and inventory will crush you."
You—or your accountant or chief financial officer—should determine your cash conversion cycle by doing a calculation that measures the time it takes your company to convert its products into cash through sales, says Bill Hettinger, principal at the Institute for Finance and Entrepreneurship, a consulting and research company, and the author of Finance Without Fear.
Once you know how long it takes your business to convert inventory into cash, you'll need to find a source of capital to tide you over that time period. That may mean you get a working capital loan against your inventory from a traditional or alternative lender. For many business owners, it's better to discount their invoices in order to get paid faster or to forgo a salary so they can keep extra cash in the business and fund their operations.
"It's always going to come down to a math calculation," Hettinger says. If discounting costs you 20 percent annually but you could get a working capital bank loan at 10 percent interest, you're better off holding out for the full amount you're due. If, on the other hand, you're funding your operations with credit cards that charge you 25 percent interest, those discounts would be the better bet.
Before you take discounts, see if technology can help your company speed up collections on your other accounts receivable and give you more flexibility. For instance, if your billing is not automated, it should be. And you should enable your customers to pay you through direct deposit, rather than taking time to process paper checks.
You also might investigate online B2B supplier networks and Web-based marketplaces that allow companies to issue electronic invoices and give or take discounts on payment terms. John Evarts, chief financial and operating officer at Mediafly, a Chicago software developer, says he has used the Ariba Network periodically for that purpose.
"As a CFO, I can take an approved invoice and monetize it with a couple of clicks," he says. And he can flip the equation and offer discounts to his vendors, "who can choose whether to accept concessions on their payments in order to get access to that capital early," he says.
Don't forget to keep a close eye on what your cash flow will look like in the near and distant future, Chase Smith says, especially if your company is growing. "Projecting your financial data into the future, and constantly updating it, will tell you if you need to take the discounted payment or if you can ride out the full term." And if you do need to take a discount, there's no reason to feel bad about it: "It's not a tragedy. It's likely the cheapest money with no strings you'll find."