Wendy's Hopes to Reprise Its Pretzel Bun Sales Bump
By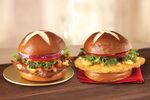 It was fairly obvious that Wendy's wasn't over the pretzel bun. Since launching the product last year, the chain hasn't stopped exulting in its success. So no one should be shocked that the burger restaurant is bringing back the popular Pretzel Bacon Cheeseburger and Pretzel Pub Chicken for a limited time this summer, starting in early July.
In a press release, Wendy's Chief Marketing Officer Craig Bahner called the pretzel bun "a cornerstone of our menu innovation last year." The chain sold more than 50 million pretzel sandwiches last year, contributing to the roughly 3 percent increase in North American same-restaurant sales in both the third and fourth quarters.
Then, during the first quarter of 2014, when the chain introduced a ciabatta burger, comparable sales increased only 0.7 percent. The chain blamed the harsh winter weather, though it's possible Wendy's simply hasn't generated the comparable excitement with other artisan bread products. Bahner said, "When we removed the pretzel bun from restaurants last year, we made way for other premium bread carriers, but consumers made it clear we couldn't say goodbye to pretzel forever."
It's not uncommon for restaurants to bring back higher-ticket, limited time offers to try to boost sales–Popeyes has a strategy of bringing back popular limited-time offers at least three times. That doesn't always work: The flatbread sandwiches, for instance, didn't pack the same punch in their second run at Wendy's last year.
If the pretzel bun should prove worthy of a comeback, it's possible that a brioche bun encore will follow. As Wendy's stated in a quarterly filing that in 2013: "Driving the positive same-restaurant sales growth was the strong consumer reaction to the Company's successful 2013 promotions, most notably, the Pretzel Bacon Cheeseburger, Pretzel Pub Chicken sandwich, and Bacon Portabella Melt on Brioche."
Before it's here, it's on the Bloomberg Terminal.
LEARN MORE