Spain Gets a New King, if It Wants One
By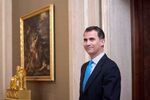 Spain is getting a new king: Georgetown University-educated and former Olympic sailor Crown Prince Felipe will soon be King Felipe VI. He's the 46-year-old son of King Juan Carlos, who announced his decision to step down about two weeks ago after almost 39 years on the throne. The abdication is scheduled for Wednesday evening in Madrid, at which point Felipe will be king. His coronation is set to take place on Thursday morning.
Juan Carlos, 76, earned Spain's respect early in his reign for his stabilizing role in the transition from dictatorship to democracy. He's more recently been beset by health problems and scandals involving him and his family. In his June 2 speech explaining his decision, he said his son will "open a new era of hope" in a country reeling from "a long and deep economic crisis that has left serious scars in the social fabric."
Felipe, whose power as head of state, like his father, is largely limited to his ability to make important people talk to each other, will need to show Spaniards the crown is a useful anachronism. Monarchies that rise above politics have value as unifying symbols, Serge Schmemann argued recently; Felipe's obvious challenge is proving this.
Despite signs of a fragile recovery, unemployment in Spain is about 25 percent, with almost 6 million jobless. Leaders of Catalonia, Spain's wealthiest autonomous region, want it to secede and are planning a vote on Nov. 9 that the central government has declared illegal. On another front, opinion polls and recent protests drawing tens of thousands show many Spaniards support an official vote to determine what form of government the country should have—a constitutional monarchy or a republic pure and simple. Activists organizing their own referendum with online voting and physical polling inside and outside Spain have captured more than 65,000 votes so far, their website shows.
The pressure on Felipe (who is married to a former TV journalist without aristocratic lineage) to cast the monarchy in a new light doesn't mean much will change operationally. "In a hereditary monarchy, such as the Spanish one, the son normally continues the work of the father," says Víctor Torre de Silva, a law professor at IE Law School in Madrid. "We should not have great expectations" in terms of dramatic differences "in the way he represents the state here or abroad or uses his limited power."
Prime Minister Mariano Rajoy, whose conservative People's Party has a parliamentary majority, is determined to keep the monarchy—and the country—intact. Rajoy's support won't really help Felipe prove the monarchy's worth to Spain. Like his father, he has to do it on his own, as a head of state who is supposed to be above politics.
To demonstrate the monarchy's relevance, he could use his influence to push the country's political parties to do more to end the economic crisis, or do more to help the millions of families affected by it. He could try to get the central government and Catalonia to sit down together (his Catalan language skills would probably help).
These are a few examples. Where he'll probably be most effective, at least to start, is in rubbing elbows with international leaders, a feat at which his father excelled. These relationships are "capital for Spain; they are wealth for Spain," says Torre de Silva. "I wouldn't be surprised if he starts a very active international agenda." That would help Spanish companies to sell abroad, he adds, though those doing business here "are not going to be affected by the new king."
Before it's here, it's on the Bloomberg Terminal.
LEARN MORE