Second-Mover Advantage: UPS Will Start Charging Higher Prices for Big Boxes Sooner Than FedEx
by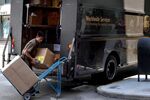 The demurrals are over in Atlanta. UPS has announced that it, too, will adopt "dimensional" pricing, an industry term of art for upping the charge for larger packages.
This was probably inevitable. UPS's rival, FedEx, unveiled its plan in May to go to dimensional pricing. UPS said at the time it had no plans to respond. But shipping industry pundits noted that FedEx and UPS typically move in lockstep when it comes to pricing. They were right.
UPS didn't mention its competitor this week when it explained its decision. "UPS has been researching the potential expansion of dimensional-weight pricing for a number of years because it enables us to more appropriately align rates with costs, which are influenced by both the size and weight of packages," UPS Chief Operating Officer Alan Gershenhorn said in the statement.
But FedEx was clearly on the minds of UPS's top executives in Atlanta. Higher prices at UPS won't go into effect until Christmas. Still, that's sooner than FedEx, which is waiting until Jan. 1, 2015. In other words, UPS will start reaping the benefits of the price increase while its chief competitor is waiting to throw the switch. UPS has not revealed what, exactly, larger packages will cost customers.
The benefits to the companies are likely to be substantial. David Vernon, a Sanford C. Bernstein analyst, told Bloomberg the price hike should apply to two-third of UPS's domestic ground shipping.
The question now is how Amazon, which is increasingly driving the package delivery market, will react. While UPS and FedEx may need to raise prices, Amazon wants to keep its shipping costs as low as possible. The company is already testing its own in-house shipping program. It will probably roll it out more quickly now.
Or perhaps Amazon could start delivering its own packages by drones, as Amazon's chief executive, Jeff Bezos, pledged to do last year.
OK, the Amazon drones may take a little longer. Still, the saga of the dimensional pricing shift won't be complete until Amazon has its say.
Before it's here, it's on the Bloomberg Terminal.
LEARN MORE