Optimistic Yellen Keeps the Fed on Course
By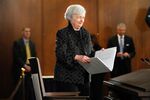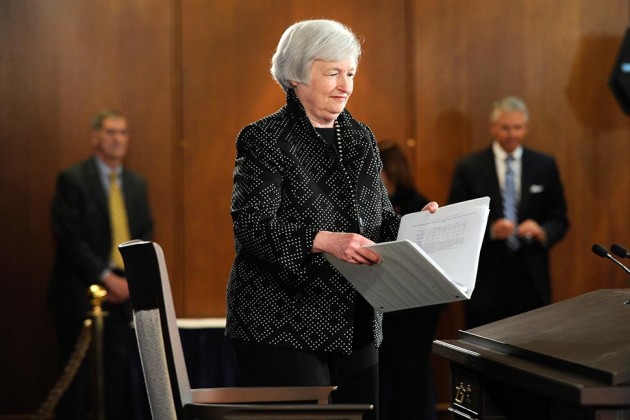 UPDATED | A pessimist at the helm of the Federal Reserve might see stagflation in the making after recent reports that the U.S. economy shrank in the first quarter and then had the highest inflation in more than a year in May. Janet Yellen is no pessimist. Under her leadership, the Fed's rate-setting committee stayed locked on its course Wednesday after concluding that the economy has "rebounded in recent months."
No big surprises emanated from the Federal Open Market Committee as it voted to cut back its monthly bond-buying by $10 billion for a fifth straight meeting. The Fed is on its way to phasing the purchases out entirely, which economists believe will happen later this year. As for the federal funds rate, the committee repeated its intention to keep the short-term interbank lending rate at zero to 0.25 percent "for a considerable time after the asset purchase program ends."
Yellen, who became chair of the Fed in February and also runs the Federal Open Market Committee, is leading the efforts to revive the U.S. economy with stimulatory monetary policy without causing inflation and asset bubbles. In a press conference, she chalked up the economy's first-quarter decline as a hiccup and said there are "many good reasons why we should see a period of sustained growth," including easier credit, an improving job market, less drag from federal fiscal policy, rising home and stock prices, an improving global economy, and—not least—the Fed's own easy-money policies.
As for inflation, she said the underlying rate of inflation is below the Fed's target, even if there is an occasional high reading, such as the 0.4 percent monthly increase in May. The Fed's preferred measure of inflation, the personal consumption expenditures index, rose 1.6 percent in April from a year earlier, which is below the Fed's 2 percent target.
Some economists worry that tighter labor markets will generate wage inflation. But Yellen said she would consider it a good thing if workers' compensation rose more than the rate of inflation, as long as the increase was paid for through higher productivity. In fact, she said that if workers' pay doesn't go up, it could hurt the economy through weaker consumer spending.
Yellen also played down another fear: the risk that the Fed is blowing more bubbles in the stock and bond markets by keeping interest rates low. She said the Fed does pay attention to evidence of speculation and acknowledged there are concerns. Still, she said, "I don't see them shaping monetary policy in an important way right now."
The Federal Open Market Committee issued its quarterly summary (pdf) of members' economic projections. There was no change since March in the central tendency of projections for economic growth in 2015 and 2016, although the 2014 forecast was marked down because of the bad first-quarter number.
(This post was updated throughout following Janet Yellen's remarks.)
Before it's here, it's on the Bloomberg Terminal.
LEARN MORE