Obama Holding Off on Airstrikes as Iraq Risks Breakup
Roger Runningen, Margaret Talev and Terry Atlas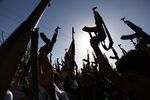 President Barack Obama is briefing top lawmakers on Iraq with no sign he's ready to order a military intervention to help the Shiite-dominated government fight off Sunni militants threatening the capital Baghdad.
Obama is still "assessing the options available," White House press secretary Jay Carney said today before the U.S. House and Senate leadership arrived at the White House. An armed response by the U.S. won't resolve the conflict, he said, and Obama is reviewing potential courses of action "through the lens of our national security interests."
Obama won't consider sending U.S. ground troops into combat, Carney said. He declined to say whether Obama would seek congressional authorization for air strikes, by drones or piloted aircraft.
Iraqi Prime Minister Nouri al-Maliki has requested U.S. air power to strike against a Sunni insurgency that is dividing the country on sectarian lines, less than three years after the departure of the last U.S. troops. American diplomats are trying to forge a political compromise to avert a full scale, Syria-like civil war or a spillover of Iraq's fighting past its border.
"They will flee to you and your countries will also be inflamed with sectarian wars," Maliki warned his neighbors today in a televised speech, without naming nations he considered at risk.
Refinery Attacked
His Shiite Muslim-led government yesterday accused Saudi Arabia, the region's biggest Sunni power, of providing "moral and material support" for the Islamic State in Iraq and the Levant, the group that began its assault by sweeping last week into Mosul in northern Iraq.
Iraq's oil production, the second-largest among OPEC nations, could also be at risk. The central government has been battling insurgents for control of a major refinery at Baiji, north of Baghdad.
So far, Carney said the U.S. hasn't seen any "major disruptions" in oil supplies from Iraq. Concern about the fighting has help push Brent crude, which is used to price more than half of the world's oil, above $114 a barrel.
U.S. Army General Martin Dempsey, chairman of the Joint Chiefs of Staff, told a Senate subcommittee that the military is "developing a full range of options" to respond.
U.S. Warplanes
The U.S. has manned and unmanned aircraft in the region. The aircraft carrier George H.W. Bush, now in the Persian Gulf, has 65 aircraft on board, including 44 F/A-18 fighter-bombers and five EA-6B Prowler electronic jamming aircraft, according to Navy figures. U.S. drones already are being used over Iraq for reconnaissance missions.
To protect the U.S. embassy in Baghdad and other diplomatic installation, Obama notified Congress that he's sending as many as 275 military personnel into Iraq.
Some lawmakers in Congress have been agitating for the U.S. to do more, short of calling for a deployment of troops.
Republican Representative Ed Royce of California, the House Foreign Affairs Committee chairman, criticized Obama's deliberative pace.
"Having failed to act months ago with drone strikes -– as repeatedly requested by the Iraqi government --- it is clear that the Obama administration is struggling to respond to this urgent situation," Royce said in a statement e-mailed after he received a classified briefing on Iraq from the State Department.
Leadership Meeting
Obama is meeting this afternoon with Senate Majority Leader Harry Reid, Senate Republican leader Mitch McConnell, House Speaker John Boehner and House Democratic leader Nancy Pelosi. The lawmakers will get a classified briefing.
Carney indicated the president isn't planning to tell them of any decisions, calling the meeting "part of the process of consultation" and a chance to hear their ideas.
Obama has said the U.S. can't solve the sectarian strife engulfing Iraq, that the country's leaders must reach some reconciliation.
"Ultimately, Iraq has to take responsibility for its own security," Carney said today.
While the conflict threatens to draw the U.S. and regional powers, including Iran, deeper into Iraq's sectarian and ethnic strife, the country's breakup isn't likely to give birth to new nations, as happened in the former Yugoslavia and Sudan, according to Stephen Biddle, who was an adviser to U.S. Army General David Petraeus in Baghdad in 2007.
Civil War
"What you're going to have is a long civil war in which some parts of the country are controlled by one of the sides, but significant parts of the country are disputed with no clear control," Biddle, an international affairs professor at George Washington University in Washington, said in an interview.
One question is whether the Iraqi government is willing to try to avert the worst-case scenario of civil war by agreeing to devolve significant power to autonomous Sunni and Kurdish regions, along with guaranteeing them a fair share of the nation's oil revenue.
Nothing short of that will work, said Henri Barkey, a professor of international relations at Lehigh University in Bethlehem, Pennsylvania, who's an authority on Iraq.
"The future of Iraq, if Iraq stays together" will have to be as a decentralized, federal state, he said yesterday at a conference in Washington. "That is the only thing that will keep Iraq together," he said.
The same point was made by the prime minister of Iraq's autonomous Kurdish region, Nechirvan Barzani, who told the BBC that he doesn't think Iraq can revert to centralized control.
It will be "almost impossible" for Iraq to return to its situation before Sunni militants seized Mosul, its second-largest city, he said. Now, the the best outcome would be "to have a Sunni region, like what we have in Kurdistan," which has had a large degree of autonomy while dependent on the Baghdad government sharing oil revenue, according to Barzani.
Before it's here, it's on the Bloomberg Terminal.
LEARN MORE