pursuits
Hong Kong's Pricey New Cruise-Ship Terminal Doesn't Have Many Cruise Ships
By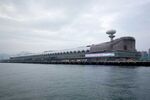 Add Royal Caribbean to the list of companies pinning its hopes on booming demand from China. Royal Caribbean Cruises expects revenue from China, which accounted for less than 1 percent of its sales in 2008, to move into double digits in the next five to 10 years, and President and Chief Operating Officer Adam Goldstein was in Shanghai today to promote the company's plans to base a new cruise ship in Shanghai. The Quantum of the Seas will be huge, with 18 decks, a skydiving simulator, and an entertainment area with bumper cars and roller-skating, and starting next year will sail from the city on three-night to eight-night cruises to Japan and South Korea, according to Royal Caribbean. "We are trying to make a very, very strong statement to the China market," Goldstein told Bloomberg Television today.
As Bloomberg Businessweek reported last month, Royal Caribbean is one of many cruise operators expecting big things from China. By 2017, the country will be the world's second-largest market, behind only the U.S. The industry leader, Carnival, plans to base four ships in China next year.
In a region where many tourists have yet to take their first cruise, success isn't a sure thing. Consider Hong Kong's experience trying to become a hub for cruise ships. The city last year transformed its old Kai Tak airport into a spiffy cruise terminal designed by Foster + Partners, the British architectural firm that also created the new airport that replaced Kai Tak in 1998. Hong Kong already had a smaller terminal, near the Star Ferry terminal in Kowloon, but that wasn't big enough to handle operators' biggest ships, so the government went all out on the new facility, spending 8.2 billion Hong Kong dollars ($1.1 billion) to build a terminal with waiting halls that could also double as exhibition venues for trade shows.
There's still a long way to go before Hong Kong becomes a regular stop on Asian cruise-ship itineraries, however. When Kai Tak opened, the government predicted it would generate as many as 8,900 new jobs over 10 years, but so far Kai Tak has yet to live up to expectations. According to the official Kai Tak website, the most recent visit was a May Day stop by Voyager of the Seas—and there won't be another until Sapphire Princess arrives in early September. The facility "remains empty more often than not," Hong Kong's South China Morning Post reported earlier this month, leading to "concerns it will become a white elephant."
Hong Kong's notoriously humid summer weather doesn't make the city a major destination for tourists, but even when the weather is good, Kai Tak isn't busy. In February, cruise ships made only four visits; the next month, just three. In part, that's because work continues, with dredging of the seabed around the terminal due to be completed next year. But even when it's complete, Kai Tak will still face problems. While Hong Kong is renowned for its public transportation system, there's no way to get to Kai Tak by subway. Cruise operators also need to be concerned about the rocky state of relations between Hong Kong and the rest of China. As locals protest against an influx of tourists from the mainland, mainlanders may feel less comfortable visiting the former British colony, further hurting Kai Tak.
Royal Caribbean isn't giving up on Kai Tak. The company will run four cruises departing from and returning to Kai Tak, up from two, the company announced this month. Other operators are slowly adding more Hong Kong trips, too. By next March, Kai Tak should have eight cruise-ship visits. The Hong Kong government remains optimistic. In an April report to the legislature, the government said "we expect a steady growth of berthings in the coming years."
Before it's here, it's on the Bloomberg Terminal.
LEARN MORE