First 'Aroma Tweet' Sent From Paris to New York
By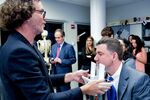 Get a whiff of this: Bloggers gathered yesterday morning at the American Museum of Natural History to witness a scent message sent from Paris arriving in New York. It was the first time an aroma-tagged photo had been delivered overseas and "played" on the oPhone, a gadget that emits smells instead of sounds.
The Willy Wonka-esque concept is the work of David Edwards, a Harvard professor and founder of Le Laboratoire in Paris, and his 23-year-old former student, Rachel Field. The two-part system consists of an iPhone app called oSnap, which can be used to label images with various olfactory notes—chocolate, red wine, cedar, and so forth—and send them to an oPhone DUO, a pair of cylindrical receivers that release the corresponding smells. The app is free, and the oPhone is now available on the crowdfunding platform Indiegogo for $149.
After about 20 journalists took pictures of the oPhone with their odorless smartphones, we all tuned into a Skype call with Christophe Laudamiel, a French fragrance chemist, who sent us an oNote that was supposed to smell like the Champagne and two macarons (chocolate and passion fruit) he had set up nearby. Once the missive was received, Field circled the room with the device to allow journalists to give it a whirl, while Edwards directed us to use both receivers and keep our eyes on the the Parisian treat projected on the screen in front of us, as if the visual might help persuade us of the smell's accuracy. The whiff I got was more like the chocolate-bar scratch-and-sniff stickers of my childhood. (The scent of Champagne was barely perceptible.) There wasn't much oohing and aahing from the rest of the crowd, either.
The current aromatic palette is limited to 32 notes, which can be mixed into 30,000 combinations. That's not as vast as it sounds: Research suggests that humans can detect more than 1 trillion different smells. For now, Edwards and his team are focusing on scents of coffee and food, although he expects to roll out further "vocabularies" in the coming months.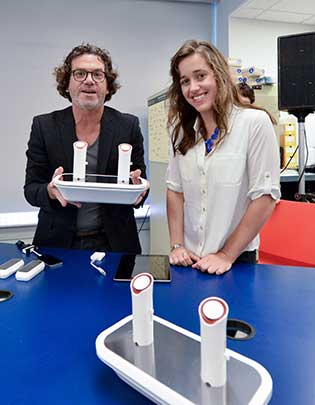 Although the video for the Indiegogo campaign depicts two fictional friends exchanging aromas like lovers exchange jokey texts, Edwards regards the oPhone as having business-to-business applications wherein smell is an important quality, such as the coffee and wine industries. He has teamed up with Coutume cafés in Paris to develop a "coffee bliss" vocabulary that will become available on oSnap in October.
Each oPhone comes with a set of oChips, compact scent cartridges that can be replaced like printer ink. The oChips are designed to diffuse a small, concentrated aroma like a delicate flower, rather than an overpowering cloud that lingers in the room and sticks to clothing.
The device won't be shipped until next spring, but visitors to the American Museum of Natural History over three weekends in July will be able to give it a sniff test.
Before it's here, it's on the Bloomberg Terminal.
LEARN MORE