Canadian Kiefer Sutherland Gets All Patriotic for the U.S. Soccer Team
by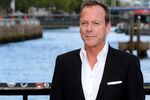 If you watched the U.S. vs. Ghana World Cup match on ESPN, you probably noticed a strange promotional video introducing the Americans. Jack Bau—er, sorry—Kiefer Sutherland narrated the inspirational spot about how Ghana, a "West African nation about the size of Oregon" trounced the U.S. in the last two world cups "and really seemed to enjoy it."
Some say we'll never measure up to Ghana, Sutherland tells us. Some people think the U.S. will never survive. Then the video goes into full-on "America F*** Yeah" mode, with a montage of soccer clips so bad-ass and patriotic it makes Clint Eastwood look like a communist.
Sutherland is good at this feel-good patriotism stuff. (Well, if you ignore the fact that he's Canadian and has said he's rooting for England.) Sutherland has also voiced comforting commercials for Bank of America, Intel, and the California hospital, City of Hope. He's part of the larger trend toward these all-American pick-me-ups that such brands as Budweiser, Chevrolet, and Chrysler have perfected over the years. For good reason: According to Neilsen, Eastwood's "Halftime in America" ad was one of the most popular commercials of the 2012 Superbowl.
The ad was produced for ESPN in connection with Victory Pictures; a spokesperson for the sports network said that they'd like Sutherland to do other promos, but it depends on his schedule. So far, it's still unclear if he'll have anything to say when the U.S. goes up against Portugal on June 22. Maybe something about Cristiano Ronaldo's silly hairdo or line of underwear? Jokes about Vasco da Gama?
Before it's here, it's on the Bloomberg Terminal.
LEARN MORE