Axel Springer Buys 20% of Privacy-Focused Search Site Qwant
Marie Mawad and Cornelius Rahn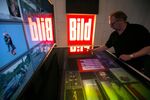 Axel Springer SE, the German publisher leading a campaign to curb Google Inc.'s influence in Europe, acquired a 20 percent stake in Qwant, a Paris-based search engine that focuses on data privacy.
Axel Springer, based in Berlin, said today it made the purchase through its Digital Ventures unit. The investment of about 5 million euros ($6.8 million) helps Qwant develop new features such as encrypted e-mail and introduce its site in more countries, co-Chief Executive Officer Jean Manuel Rozan said.
"We've now got the means we need to keep growing," the former hedge-fund manager, who co-founded Qwant three years ago with computer engineer Eric Leandri, said in an interview.
Axel Springer, which publishes Germany's largest newspaper Bild, has introduced paid online content and acquired Internet assets to offset a decline in print revenue. CEO Mathias Doepfner wrote in a newspaper editorial in April that Google's search algorithm determines the fate of the online-advertising market, leading to some German politicians to call for a breakup of the U.S. company.
The European Union's top court last month ruled citizens have a "right to be forgotten" online, meaning individuals can ask search-engine owners to remove personal information and request that a court step in if the company doesn't comply.
Axel Springer shares rose 0.3 percent to 46.55 euros at 10:43 a.m. in Frankfurt, giving Europe's biggest newspaper publisher a market value of 4.6 billion euros. Bloomberg News reported the acquisition yesterday.
Ixquick, StartPage
As consumers become more concerned with preserving their privacy online, Qwant and other upstart search engines like Ixquick, StartPage and DuckDuckGo Inc. are trying to grab audience from Google and Microsoft Corp. by offering features they say are more respectful of privacy. Qwant boasts a no-tracking, no-ads policy.
There are no talks about using Axel Springer's advertising know-how in Qwant nor plans to explore this option, Leandri said today. Axel Springer could use some of Qwant's technology in its own businesses, he said.
Rozan and Leandri said in May that Qwant is profitable, forecasting full-year sales of more than 3.5 million euros, compared with 1.5 million euros in 2013.
Qwant gets as many as 10 million searches a day and predicts it will handle more than 1.2 billion this year. Google, by contrast, saw 111 billion searches in March alone, and Baidu, the No. 2 site, had 31 billion, according to ComScore Inc. data.
Over the past year, Axel Springer and its ventures bought control of companies including Runtastic GmbH, a maker of a run-tracking application, news broadcaster N24 Media GmbH, U.K. job portal Jobsite and Israel's largest classifieds site Yad2.
"What attracted Axel Springer first and foremost is our privacy promise," Qwant's Rozan said. "They expect us to keep our platform neutral and respectful of people's private lives."
Before it's here, it's on the Bloomberg Terminal.
LEARN MORE