Americans Are Eating More Nathan's Hot Dogs, Just Not at Home
by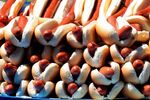 Despite America's waning interest in hot dogs, Nathan's Famous, renowned organizer of anatomy-defying hot dog eating contests, is enjoying sales growth. The company's revenues in the 12 months ending in March increased by 15.9 percent, to nearly $83 million, according to a recent Securities Exchange Commission filing. The chain says it is outperforming the Standard & Poor's 500-stock index.

The source of Nathan's growth last year was getting its hot dogs offered by more retailers, not from supermarket sales. Sales in stadiums, movie theaters, and non-Nathan's restaurants totaled $51.9 million–up 20 percent, year-on-year–and was the company's only business to grow during the period. In addition to increased orders, Nathan's raised prices in December to offset higher beef costs. (The price of hot dogs during the year rose about 7.5 percent, according to the company.)
Meanwhile, royalties from licensees who manufacture and distribute Nathan's franks were flat, at about $8.5 million, after growing for years. Nor did Nathan's restaurants have a stellar year: Sales at its five company-owned restaurants were down, and royalties and fees from franchisees decreased, too.
Supermarket hot dog sales across the board were down last year. Unit sales of all refrigerated frankfurters were down about 1 percent in 2013, down 2.9 percent in 2012, and had also fallen during the two years prior, according to data from IRi, a Chicago-based market research firm.
While hot dogs may not be a growing business, the recent bidding war for Hillshire shows that food manufacturers see promise in processed meats. Hillshire—owner of No. 1 hot dog brand Ball Park—has noted the need for innovation in the hot dog category, including better marketing, and has launched new varieties such as lean franks and a premium product called Park's Finest.
Nathan's, the fifth-largest hot dog brand in terms of grocery sales, hopes to change its supermarket slump. In March, it made Smithfield Foods subsidiary John Morrell & Co. (which manufactured dogs for the brand starting in 1978), its primary licensee for the next 18 years. John Morrell will guarantee royalties of at least $10 million in the first year of contract, and the guaranteed minimum royalties will increase annually throughout the term. Morrell also will pay royalties at a rate of 10.8 percent of sales, compared to 3 percent to 5 percent from Nathan's previous licensee SMG.
Nathan's Chief Executive Officer Eric Gatoff said in an e-mail that because SMG was in its final year of its contract, "they did very little in terms of promotional or investment spending during the year" as they would not recover their investment, he says.
Gatoff predicts a good year ahead: The company stated in its annual filing that it plans "full-scale marketing efforts, both inside and outside of stores" including such events as a Nascar Sprint Cup Series sponsorship and new locations for the hot dog eating contest and its qualifying events.
Before it's here, it's on the Bloomberg Terminal.
LEARN MORE