A Fancy French Airline for Those Who Can't Afford Business Class
By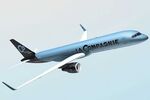 Higher airfares across the Atlantic aren't just the bane of backpackers and families on summer vacation. Business travelers have been pinched, too, and a new airline called LaCompagnie sees a space for an all-business-class entrant.
"The time is different today—it is a different marketplace," LaCompagnie co-founder Peter Luethi said on Tuesday at a Manhattan news conference announcing the new airline flying between Paris and New York. The dramatic reversal that has made American carriers the world's most profitable, buttressed by higher fares, has also served as the driving force behind the launch of Odyssey Airlines, a London-based startup plotting a similar all-business-class service from London to New York.
And while many small and midsize companies and self-employed entrepreneurs won't spring for traditional business-class seats, the rising expense of flexible coach fares might make the market viable for new players with premium products. That's one reason JetBlue has launched its new Mint premium cabin on transcontinental flights—price matters, but so does affordable comfort.
LaCompagnie's fares will fall roughly 30 percent to 50 percent below current business-class seats on the Paris-to-New York route. "We are convinced this is going to work," Luethi says. "Through consolidation and the alliances, capacity has gone down and the prices have gone up tremendously." LaCompagnie's goal: "Offer an alternative without polluting the market with overcapacity."

LaCompagnie will fly a Boeing 757 with 74 seats that recline flat from Charles de Gaulle Airport near Paris to Newark, N.J., which it says is closer to Manhattan and easier to navigate than JFK International, while also offering simpler access for the many corporate travelers in northern and central New Jersey.
"Haven't we seen this movie before?" a travel reporter asked me before the presentation. Indeed, if an all-business-class airline from Paris sounds exceedingly familiar, it's because there was one: L'Avion was sold to British Airways and merged into that airline's OpenSkies brand back in 2009. LaCompagnie is the operating name of Paris-based Dreamjet and the brainchild of L'Avion founder Frantz Yvelin and Luethi, a former executive at India's Jet Airways and Swissair. The company has raised €30 million ($41 million) from investors.
Dreamjet is awaiting operating approvals from the Federal Aviation Administration, which it expects to receive this month. Flights are scheduled to begin from Paris on July 11. The airline has started selling introductory promotional fares in France at €1,776 ($2,406) for two people, round trip. It plans to offer three basic fare groups on each flight, ranging from $1,800 to $4,600 round trip, depending on how much flexibility a traveler wants in changing or canceling a ticket without fees.
The airline is equipping each seat with a Samsung Galaxy tablet holding new movies and music. Eventually, LaCompagnie hopes to eliminate all paper from its cabins, offering newspapers, magazines, and meal menus on the tablets. It will offer a four-course lunch on flights to America, which will leave Paris at 5:50 p.m., and a late-night snack on flights from Newark, which depart at 9:45 p.m.
The upstart will face competition from Air France and OpenSkies most fiercely, although American, Delta, and United also fly nonstop on their own planes from New York. OpenSkies has three daily flights on the route with a three-class cabin. Air France has three daily flights to JFK, and sells seats on Delta's Paris-Newark flight.
None of those, however, offers a single business-class service on board. OpenSkies' weekday business-class fare from Newark was $1,596 for a round trip quoted for July 17-22, about half the price of its JFK flights. The three U.S. airlines were charging $3,294 to $4,621 for round-trip Paris flights on those dates.
The name of the new airline is meant to signify a higher-end product with a French touch, a company that travelers would want to join repeatedly. Two French ad agencies bidding for the airline's business both arrived at the name "LaCompagnie," Luethi says. Time will tell if it registers with trans-Atlantic business travelers.
Before it's here, it's on the Bloomberg Terminal.
LEARN MORE