More Americans Than Ever Are Watching the World Cup
By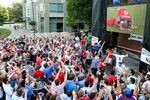 The long-awaited rise of soccer in the U.S. is an old and sometimes overcooked story. Yet early returns show noticeably increased interest in the World Cup this time around.
ESPN reports today that Monday night's match between the U.S. and Ghana scored a 7.0 ratings share on Nielsen's overnight report—a record for a FIFA World Cup match on the channel.
Overall, the network says ratings are up 16 percent through the first 14 matches.
For comparison, here are ratings shares for U.S. men's matches in the past two World Cups on both ABC/ESPN and Univision, which holds the Spanish-language rights in the country. While there are lots of variables to consider—time of day, day of week, opponent—the general trend is growth.

John Ourand at Sports Business Journal has the audience for Monday night at 11.1 million for ESPN and 4.8 million for Univision. Here is how that compares to past matches.

The title holder for most-watched soccer match in U.S. history is the World Cup final between Spain and the Netherlands in South Africa four years ago, with 24.3 million viewers. At the current rate, the question is not whether the 2014 World Cup will set a new record but whether that record will come from U.S. team match or from the final. (If the two overlap, forget about it.)
All of this is a mixed blessing for ESPN and Univision. The two were outbid by Fox and Telemundo for the 2018 World Cup in Russia and for the 2022 tournament in Qatar (maybe).
Before it's here, it's on the Bloomberg Terminal.
LEARN MORE