Ukraine Negotiating for EU Gas Supplies After Russia Cuts
Kateryna Choursina, Daryna Krasnolutska and Daria Marchak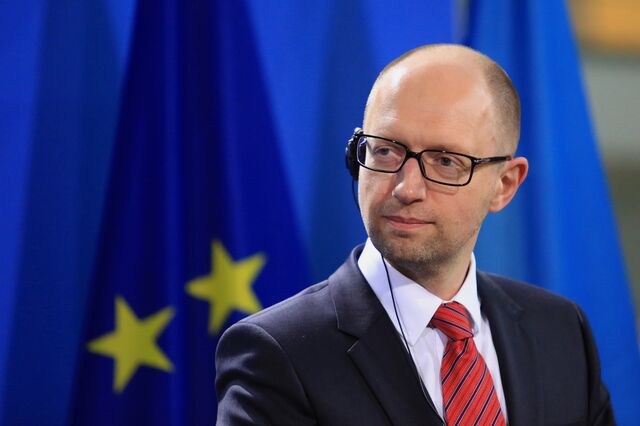 Ukraine is sending a delegation for talks with European Union officials aimed at securing natural gas supplies after Russia cut off deliveries as government troops battled separatist rebels.
"Ukraine can get 15 billion cubic meters of gas from the EU," Ukrainian Prime Minister Arseniy Yatsenyuk said today in parliament in Kiev. "The Russian president says he is against reversed flows, and we are very much against monopolization, against economic and energy discrimination."
Ukraine said yesterday that Russia cut gas after demanding advance payments, the first time shipments have been affected in the current crisis between the countries. Ukraine must pay its debt and will only get gas paid for up front, OAO Gazprom Chief Executive Officer Alexey Miller said. Gazprom supplies a third of EU gas, 15 percent of which flows through Ukraine.
Gas flows from Russia via Ukraine to the EU are "so far" stable, Sabine Berger, spokeswoman for European Union Energy Commissioner Guenther Oettinger, told reporters today in Brussels. "We expect that Ukraine will respect its transit commitments, as well as we expect Russia to respect its supply commitments," she said.
Andriy Kobolyev, head of Ukraine's gas monopoly NAK Naftogaz Ukrainy, said European gas companies that have their own gas "are ready to deliver it to Ukraine," as cited in an e-mailed government statement. Kobolyev said Ukraine may be offered gas at $320 per 1,000 cubic meters -- less than the $385 that Gazprom demands Naftogaz pay.
Gas Suppliers
Naftogaz is already working with France's GDF Suez and Germany's RWE AG and has "proposals" from another major energy company, Kobolyev said, according to the statement.
Yatsenyuk said a delegation is leaving today for talks with EU officials on reversing gas flows from western Europe to Ukraine. Naftogaz spokeswoman Alyona Osmolovska said talks will be held in Budapest tomorrow during an energy conference.
Russian Foreign Minister Sergei Lavrov said today in Belgrade that he's confident a construction halt of the South Stream pipeline, which would bypass Ukraine to deliver Russian gas, is only temporary. Bulgaria on June 8 decided to suspend construction of South Stream.
The EU has disbursed 500 million euros ($678 million) of financial aid to Ukraine and a remaining 1.01 billion euros will be disbursed later this year, officials said in Brussels.
Bonds
The price of Ukraine's $2.6 billion of bonds due July 2017 climbed for the first time in six days, pushing the yield six basis points lower to 10.06 percent. The yield jumped 69 basis points yesterday.
Fighting between government troops and rebels continued overnight in the eastern Luhansk region with 32 Ukrainian troops wounded since yesterday, the Border Service and Defense Ministries said.
A night-time mortar attack near the village of Alekseevskoe injured 31 border guards and firefight yesterday with a rebel convoy left about 30 separatists dead or wounded and one government soldier injured, officials said.
So far, 125 government soldiers have been killed in operations against rebels since fighting began in April, Deputy Prime Minister Vitali Yarema said yesterday in an interview on Ukraine's ICTV channel.
Rebel Personnel
Russia has as many as 38,000 soldiers on Ukraine's borders and continues to supply arms and personnel to rebel forces in the eastern part of the country, Ukraine's National Security Council chief, Andriy Parubiy, said yesterday.
There are about 16,000 troops on Ukraine's eastern frontier and another 22,000 in Crimea, the Black Sea peninsula that President Vladimir Putin annexed from Ukraine in March, Parubiy said.
The number of militants in Luhansk and the neighboring Donetsk region is about 15,000 to 20,000, half of whom are from Russia, including special forces, Parubiy said. Igor Konashenkov, a spokesman for the Defense Ministry in Moscow, declined to comment on Parubiy's assertions.
While Parubiy exaggerated the number of Russian troops at the border by several times, there is a deployment of four battalions to boost security after violations from the Ukrainian side, Vedomosti reported, citing an unidentified person with knowledge of the military's movements. More may be added, the newspaper said.
"The military invasion is continuing," Parubiy said. "We are dealing with Russian occupiers and weapons and militants are being brought in."
Deadliest Attack
Rebels shot down a transport plane in mainly Russian-speaking eastern Ukraine on June 14, killing 49 servicemen in the deadliest attack since separatists seized government buildings on April 6. The U.S. and the EU have warned Putin that Russia faces further sanctions if concrete steps aren't taken to de-escalate the conflict.
The downing of the IL-76 aircraft as it approached the airport in Luhansk came after the U.S. accused Russia of sending heavy weapons, including rocket launchers and tanks, to rebels across the border. Russia has protested the civilian toll or Ukraine's offensive in the east.
President Petro Poroshenko, sworn in June 7, said yesterday he'll announce a limited cease-fire as part of a peace plan he intends to offer this week, after Ukrainian forces regain control of the border and halt the inflow of weapons and fighters.
The plan will include early elections in the eastern part of the country and constitutional changes to give those regions more power, Poroshenko said at a security meeting in Kiev.
Before it's here, it's on the Bloomberg Terminal.
LEARN MORE