U.S. Beats Ghana 2-1 With Late Goal in World Cup Contest
Christopher Elser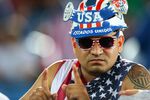 The U.S. defeated Ghana 2-1 in their Group G match in soccer's World Cup in Brazil as John Brooks responded with the decisive goal after Andre Ayew had tied the game late in the second half.
Clint Dempsey scored 32 seconds into the contest to put the U.S. in front, where it remained until Ayew scored in the 82nd minute. Four minutes later, the U.S. got a corner kick and Brooks headed in a goal, his first for the national team, to put the Americans back in front.
"This was exactly the start we wanted, we had to work hard for it and it's a great feeling to get the first three points," U.S. coach Jurgen Klinsmann told reporters. "I was still convinced that we would win this game even after Ghana's equalizer."
Just after the kickoff, Dempsey weaved through several defenders to place the ball in the net with his left foot, giving the Americans a lead before many of the crowd in the stadium in Natal had sat down. With the goal, Dempsey became the first American to score in three different World Cups.
Dempsey later needed treatment for a bloody nose after getting kicked while vying for a ball in the air. The U.S. had already lost Jozy Altidore after the forward grabbed his leg while sprinting for a ball in the 20th minute. He was replaced by Aron Johannsson.
Broken Nose
"I think my nose is broken," Dempsey said. "I didn't consider coming off, I just wanted to go on for as long as I could, but I had trouble breathing. I was coughing up blood a little bit from the back of my throat, but I felt fine and that I could keep going."
Ghana pushed to get even, physically challenging the Americans and gaining about 60 percent of possession just before halftime. Those attacks fizzled out.
In the second half, Ghana started to create more chances, but Christian Atsu shot wide and Asamoah Gyan shot over the cross bar. Frustrations increased as Kevin-Prince Boateng shot into the stands from 40 yards away.
The U.S. defenders started playing closer to their own goal and Ghana's attackers took advantage. Eventually, the pressure paid off with Ayew's goal.
"It was a very tough game, and when you play at this high level any little mistake can cost you dearly," Ghana's coach, James Kwesi Appiah, told reporters. "We had a lot of the ball and created a lot of chances, but we didn't make the most of our chances."
Biden's Visit
The Americans were congratulated in their locker room after the match by U.S. Vice President Joe Biden, who attended the contest, U.S Soccer said in a Twitter message.
"This win means nothing unless we can build on it," Dempsey said in a news conference. "We have to do a better job keeping the ball and being more confident with the ball."
Thomas Mueller scored three times as Germany beat Portugal 4-0 in yesterday's other Group G match. Portugal was reduced to 10 men when Pepe was sent off for headbutting Mueller.
"Winning was our only option and the team went out there with that in mind," German coach Joachim Loew said. "Thomas did really well in attack and created a lot of space for us."
In a Group F match yesterday, fans booed at the end of a goalless meeting in Curitiba between Iran and Nigeria, the first draw in the tournament. Nigeria is winless in nine World Cup matches since a 1-0 victory against Bulgaria in 1998. The result leaves Argentina atop the pool following a 2-1 win against Bosnia and Herzegovina two days ago.
Today's Matches
The last of the opening matches will take place today, with Belgium playing Algeria and Russia facing Korea in Group H. Record five-time champion Brazil takes on Mexico in Group A.
Mueller scored with a 12th-minute penalty kick and added a second goal just before halftime in Salvador as the Portuguese defense failed to deal with a pass. In the second half, he knocked in a ball that goalkeeper Rui Patricio couldn't reach. Mats Hummels added Germany's other goal in the 32nd minute with a header.
Mueller was involved in the other significant action of the half. He went down after Pepe's hand made contact with his face as they battled for the ball outside the Portuguese penalty area. With Mueller seated on the ground, Pepe leaned forward and his head made contact with the German striker's. Serbian referee Milorad Mazic dismissed Pepe with a red card.
Penalty Kick
Mueller scored the opening goal from the penalty spot after Mario Goetze was brought down. Joao Pereira received a yellow card for the foul. Hummels outleaped Portugal's defenders on a corner kick and headed the ball in 20 minutes later.
Mueller was replaced by Lukas Podolski shortly after his goal in the 78th minute.
Cristiano Ronaldo, the World Player of the Year, didn't have much impact on the match. Several of his free kicks struck defensive walls and it wasn't until the 91st minute that he troubled German goalkeeper Manuel Neuer, who blocked his 40-yard (36-meter) free kick.
The top two teams in each group move on to the round of 16, with the winner of one group playing the runnerup of another.
Before it's here, it's on the Bloomberg Terminal.
LEARN MORE