The Obama Administration Picks a Fight With Teachers Unions
By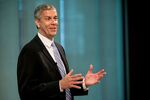 Arne Duncan, President Barack Obama's education secretary, was scorned last week by teachers union leaders and their supporters for applauding a California judge's tentative ruling that the state's teacher tenure laws are unconstitutional. "This decision presents an opportunity for a progressive state with a tradition of innovation to build a new framework for the teaching profession that protects students' rights to equal educational opportunities while providing teachers the support, respect, and rewarding careers they deserve," Duncan said.
Randi Weingarden, president of the American Federation of Teachers, chastised Duncan in an open letter for failing to defend California's tenure rules. "Teachers across the country are wondering why the secretary of education thinks that stripping them of their due process is the way to help all children succeed," Weingarten lamented in the letter, which was clearly meant to gird her members for battle.
The education writer Diane Ratvich, a staunch opponent of tenure reform efforts, went further, posting Duncan's statement on the ruling on her website and arguing that it sounded like the words of a Republican. "Not a word about the real causes of unequal opportunity: poverty and segregation," Ratvich wrote. "Who would have believed that a Democratic administration would … hail a court decision removing due process from public school teachers? Mitt Romney's Secretary of Education (had he won) could have issued this press release."
It is unexpected to see a top Obama administration official staking out a position so at odds with teachers unions. They are, after all, a key part of the the Democratic Party's base. But Duncan's praise for Los Angeles Superior Court Judge Rolf Treu's June 10 decision speaks volumes about the ruling's potential to change the public education system in the U.S.
Treu tenatively ruled in favor of nine California students—backed by Silicon Valley entrepreneur David Welch and his nonprofit organization Students Matter—who argued that they were deprived of their right to a quality education because of state laws granting tenure to teachers after just 18 months on the job. The judge accepted the plaintiffs' case that too many underperforming teachers wind up in low income and minority schools and can't easily be fired. Treu rejected the argument made by unions that tenure is simply the right to due process; he noted that tenured instructors in California are rarely dismissed.
On Sunday, Duncan forecast potential outcomes for the lawsuit. In a statement on the Education Department's website titled "Drawing the Right Lessons From Vergara," he wrote, "One possibility is a series of appeals, probably stretching across years, and similar suits in other states and districts. Both sides have the millions such a fight would require. Improvements for teachers and students would be slow in coming."
Duncan said he hoped the two sides would instead pursue a more constructive alternative: "There's a second path—which is for all involved to recognize, as the court did, that the status quo is broken, and get to work on alternatives that serve students well—and respect and value teachers and the profession of teaching."
Before it's here, it's on the Bloomberg Terminal.
LEARN MORE