The EPA Doesn't Kill Coal Jobs. Better Mining Does
by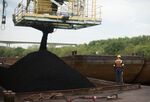 In the two weeks since President Obama proposed new rules to regulate power-plant carbon emissions, legislators from from coal states have rallied around a cry to save jobs. But job-killing environmental regulation historically doesn't kill as many jobs as mechanization and low natural gas prices.
The U.S. has lost more coal jobs since 1978 than it has today, and climate policy isn't the reason. There wasn't any. Coal companies are in the business of producing coal, not jobs. Between 1978, when the U.S. Mine Safety and Health Administration started collecting data, and 2013, the U.S. shed more than 132,000 coal jobs, or nearly 52 percent of its workforce, according to MSHA data.

In the same period, U.S. coal production jumped almost 47 percent, to about 984 million short tons last year, 16 percent below its 2008 peak.

The U.S. shale gas bonanza made cheap coal look expensive. Coal's contribution to U.S. power generation slipped to 39 percent last year from more than 51 percent in 2004, while natural gas nearly doubled to 27 percent. Competitive pressure from shale gas has made it politically easier -- maybe politically possible -- for the Obama administration to propose its rules on carbon emissions.
The National Mining Association opposes the White House proposal and says that a loss of coal-related jobs from new federal rules could have knock-on effects in automaking, steelmaking and other industrial sectors.

The U.S. climate conversation has changed, as reflected in a recent Bloomberg poll. It's changed because the climate itself is starting to feel different -- and also because the U.S. energy economy doesn't look like it used to either.
More by Eric Roston (@eroston on Twitter)
Visit The Grid for the latest about energy, natural resources and globalbusiness.
Before it's here, it's on the Bloomberg Terminal.
LEARN MORE