Swisscom Raises Bid for PubliGroupe to About $548 Million
Thomas Mulier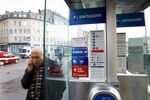 Swisscom AG raised its bid for PubliGroupe SA to about 492 million francs ($548 million) to develop its directory business and compete with Google Inc.'s search service.
Switzerland's largest carrier said in a statement today it increased its offer to 214 Swiss francs a share and said owners of 25 percent of the Lausanne-based advertising company agreed to tender their stock. In a separate release, PubliGroupe said it rejected a 190 franc-per-share bid by Tamedia AG and would support Swisscom's improved offer.
Swisscom has been competing with Tamedia, which publishes the Zurich daily newspaper Tages-Anzeiger, to gain control control of PubliGroupe's directories, including local.ch. Swisscom has said it wants to develop the business as an alternative to Google.
Shares of PubliGroupe rose 5 percent to 212.40 francs at 9:24 a.m. in Zurich. They have doubled since April.
Operating profit of PubliGroupe's search-and-find unit, which includes local.ch, rose 14 percent last year to 25.5 million francs. Sales rose 12 percent to 115.9 million francs.
Bern-based Swisscom previously bid 200 francs a share and Tamedia agreed not to raise its offer. Tamedia will offer the PubliGroupe shares it owns to Swisscom if the phone company's bid succeeds, and the companies will work together on their directory businesses, Swisscom said on May 28.
Swisscom's takeover of PubliGroupe and the partnership sought between Swisscom and Tamedia will be subject to approval by the Federal Competition Commission, Swisscom said in its statement.
Swisscom has a deadline of June 23 to publish its prospectus, and the bids will run from July 8 to Aug. 5, PubliGroupe has said.
Before it's here, it's on the Bloomberg Terminal.
LEARN MORE