Senators to Dr. Oz: You Help People Peddle Phony Cures
By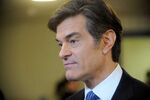 Dr. Mehmet Oz doesn't pitch specific products. The celebrity doctor and Columbia University professor of surgery says clearly on his website that "Dr. Oz does not endorse any brand name or commercial supplier" and instructs viewers to check with their doctors before taking supplements. He even has an operation called Oz Watch devoted to tracking down fraudulent claims using his name or likeness, which he says has collected 35,000 complaints and resulted in 600 cease-and-desist letters.
He is also sometimes working at his own cross-purposes. At a Capitol Hill hearing Tuesday morning on deceptive advertising of weight-loss products, Oz conceded that "I've made [the regulators'] jobs more difficult."
That's because while Oz doesn't recommend brand names, he does endorse whole categories of unproven remedies and he does so expansively. At the hearing, Senator Claire McCaskill (D-Mo.) quoted this classic Oz-ism: "You may think magic is make-believe, but this little bean has scientists saying they found the magic weight-loss cure for every body type. It's green coffee extract." Noting that Oz was a trained scientist—he has a medical degree from the University of Pennsylvania—she told him, "I don't get why you need to say this stuff because you know it's not true."
The Federal Trade Commission is currently suing a company that sold green coffee extract—at$50 for a month's—claiming it would help people drop 20 pounds in four weeks. The purveyor's website hosted footage of Oz's enthusiastic endorsement. Oz is a favorite of supplement makers and snake oil salesmen who use his claims in come-ons to customers. Policing those pitches falls to the FTC.
Oz denounced scam artists but defended his advocacy for the coffee cure. "I'm not going to argue that it would pass FDA muster if it was a pharmaceutical drug seeking approval," he told McCaskill. Nonetheless, he said he is persuaded that, combined with diet and exercise, it could help people lose weight. "I actually do personally believe in the items I talk about on the show. I passionately study them." And he says the advice he gives to his audience is the same that he gives to his own family.
He says he's toned down the claims made on the show since the green coffee segment aired in 2012. "In an intent to engage viewers, I used flowery language," he said. "It ended up not being helpful but incendiary and provided fodder for unscrupulous advertisers."
Reflecting later in the hearing, Oz suggested that maybe his reluctance to endorse specific products is a mistake. He was suggesting people try certain types of products without giving them guidance about how to find reputable suppliers. That left an opening for scammers and frauds. "I left my audience hanging, thinking I was doing the ethical thing," Oz says. "Maybe I'll do it in the future. I should've just said, here are the companies I trust."
An official Oz-branded line of green coffee extract, acai berry juice, raspberry ketone, and other "alternative therapies" might not impede the swarm of imitators appropriating Oz's claims, but it would surely be lucrative. Stay tuned.
Before it's here, it's on the Bloomberg Terminal.
LEARN MORE