Putin's South Stream Pipeline Could Face a New Obstacle, in Serbia
By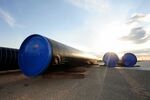 The newest front in the Russia-Ukraine gas war is in the Balkans. On June 16, hours after Gazprom shut off gas supplies to Ukraine, Russian Foreign Minister Sergei Lavrov arrived in Serbia for talks about the planned South Stream pipeline, which would carry Russian gas to Europe without crossing Ukraine.
President Vladimir Putin's push for South Stream, which would pass under the Black Sea and then westward through Bulgaria and Serbia toward Western Europe, has taken on new urgency as its relations with Kiev have worsened. Speaking to reporters today at the end of his visit, Lavrov said he expected Serbia to begin construction of its section of the pipeline in July, as scheduled. Gazprom issued a statement that the project was proceeding "strictly on schedule."
Serbian Foreign Minister Ivica Dacic, though, was vague about construction plans, saying only that the pipeline would "be continued," and that the project is in Serbia's "national interest."
Serbia has good reason to choose its words carefully. Its new center-right government, which took office earlier this year, is strongly pro-Europe and has promised to chart a path toward European Union membership. For the moment, the EU doesn't want any of its members, or prospective members, working on South Stream.
Bulgaria earlier this month agreed to suspend work on its portion of the pipeline, under pressure from officials in Brussels who said several aspects of the project violated EU regulations. The EU and the U.S. have made clear, though, that they want to slow progress on South Stream mainly for political reasons, to gain leverage with Moscow in the Ukraine crisis.
Serbia, as an EU candidate country, will be required to bring its national energy laws into line with EU regulations by the end of this year. That would rule out proceeding with construction of South Stream, "unless there is a dramatic, and at present highly unlikely, political reorientation in Serbia, away from the EU," says Tomas Maltby, a researcher at the University of Manchester who studies EU-Russian energy relations.
What happens in Serbia doesn't matter much in practical terms so long as construction in Bulgaria remains on hold because gas coming to Serbia from Russia must first pass through Bulgaria. Still, Maltby says, the longer South Stream is delayed, the more Gazprom's European customers will look for alternatives to Russian gas, including shale gas development in Europe and liquefied natural-gas shipments from Qatar, Algeria, and the U.S.
On the other hand, some EU member countries are eager to get the pipeline built. Countries as far away as Italy and France have suffered gas shortages during past disputes between Russia and Ukraine, and Europe is nowhere near ready to wean itself from Gazprom, which supplies almost one-third of the EU's gas. If Brussels were to prevent construction of South Stream, Maltby says, "the question is what the EU would bring to the table in terms of energy security."
Before it's here, it's on the Bloomberg Terminal.
LEARN MORE