pursuits
In China on the Solstice, Dog Meat Is What's for Dinner
By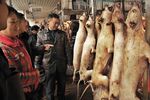 As June 21 approaches, people throughout the Northern Hemisphere are getting ready to mark the summer solstice. In England, thousands will descend on Stonehenge at sunrise. Swedes will celebrate Midsommar with maypoles and feasts of pickled herring, grilled salmon, and strawberries. In California, Santa Barbara will have concerts and a parade.
Then there's Yulin, China. The city in the southern province of Guangxi greets the summer solstice by slaughtering thousands of dogs, simmering their meat in hotpots, and serving them with litchis and booze to locals and visitors. Eating dog meat on the solstice is a local custom that in recent years has gone big time, with a dog-meat festival that extends for several days on both sides of June 21. According to Humane Society International, the city's restaurants serve over 10,000 dogs a day during the festival, many of them pets or watchdogs stolen from their owners and then crammed into cages and trucked hundreds of kilometers to slaughterhouses.
For such a place as Yulin, in a remote part of one of China's less affluent regions, the dog meat festival is the single time of year when the city gets to be in the spotlight. But China's growing numbers of pet owners are paying attention—and they and their supporters are pressuring locals to stop the slaughter. Animal rights activists, law professors and lawyers say the festival is illegal, the China Daily reported yesterday. Some celebrities have taken to Sina Weibo, China's answer to Twitter, to denounce dog consumption. And the Chinese media has cited food-safety experts expressing concern about the risks of eating uninspected dog meat.
The pressure is starting to have an impact, says Peter J. Li, China policy specialist at the Humane Society International who recently visited Yulin. In a bid to make the festival less embarrassing, government officials have asked restaurant owners to remove the character for dog from signs. "There was a restaurant called Crispy Dogmeat Restaurant that has changed to Crispy Meat Restaurant," says Li. "According to a restaurant owner who talked to us, an official told [dog-meat traders and restaurateurs] bluntly: Don't do anything outrageous; reduce the number of dishes to be served at so-called festival time, and don't make trouble for us."
Traders in the city's markets can no longer sell and butcher live dogs, adds Li, who says government officials concerned about the threat of rabies have also tried to stop traders from trucking dogs into the area from other provinces. (Governments in nearby Southeast Asia have also been cracking down on the dog-meat trade because of worries that smuggling so many animals across borders contributes to the spread of rabies.)
For now, the festival will go on in Yulin. Writing in the official China Daily, the newspaper's Xiao Lixin argues there is little to do to stop it in the short term:
In China, owing to the legal vacuum on the protection of domestic (or non-wild) animals, banning the dog meat-eating festival will not be a good solution. It requires time to encourage Yulin residents to change their dietary habit. Animal rights activists should respect other people's choice of food in this vast country of more than 50 ethnic groups.
However, the Humane Society's Li says the pressure "is making life very difficult for the dog traders." He dismisses arguments that dog consumption is a local tradition that others need to respect. "There was foot binding for women; do we want to continue foot binding?" says Li, a native of Jiangxi province who now teaches politics and international relations at the University of Houston-Downtown. "Men could have many wives in the past. Do we want to continue that? Things can change."
Before it's here, it's on the Bloomberg Terminal.
LEARN MORE