Home Economics: The Big Business of Small Crafts
by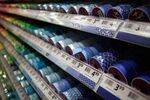 No fewer than two craft stores are in the news this week: one for its politics (conservative), the other for its performance (strong.)
Hobby Lobby and its founders, the very religious Green family, have challenged part of the birth-control provisions in the Affordable Care Act. A decision by the Supreme Court is expected to come any day. Michaels, owned by Bain Capital and Blackstone, is in the early stages of an initial public offering that it figures could raise close to $500 million.
Michaels is the larger of the two, with almost 1,300 stores and sales of $4.6 billion last year. Rainbow Looms accounted for $4 million of that. (If you have kids under age 12, you know what I'm talking about; every one else, look here). Some 36,000 additional items cram the shelves, too, and nearly half are private-label products. Sales in stores open for a year—an important measure of a retailer's health—grew by 2.9 percent in 2013 and by 3.8 percent in the first three months of this year. That's better than a lot of other big box chains performed. Michaels customers are generally affluent, with a median household income of $81,000. And the cold winter doesn't seem to have posed a problem for the craft chain.
The take-away: The do-it-yourself movement is still going strong, recession or not, recovery or not. Approximately 55 percent of U.S. households participated in at least one craft project in 2012, according to the Craft & Hobby Association. That's 62 million households. And these families bought craft supplies almost two times a month, on average. Michaels—like gyms—can count on people to have great intentions, if not follow-through.
Before it's here, it's on the Bloomberg Terminal.
LEARN MORE