Hensarling Wrong on Ex-Im Bank: Manufacturers' Group
Brian Wingfield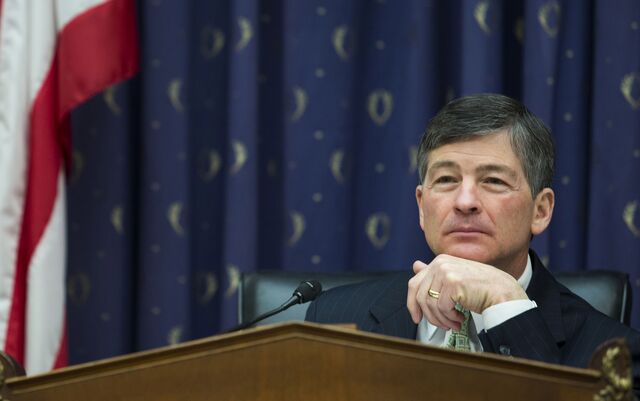 House Financial Services Committee Chairman Jeb Hensarling is "completely wrong" in opposing renewal of the U.S. Export-Import Bank's charter, National Association of Manufacturers President Jay Timmons said.
Hensarling, a Texas Republican, has called for the abolition of the bank, which helps foreign companies buy U.S. goods. He has described it as an example of "cronyism" because it benefits major corporations including Boeing Co. and General Electric Co.
"I understand Chairman Hensarling's reservations, and I respect his opinion," Timmons said today in a meeting with reporters and editors at Bloomberg Government's office in Washington. "I just think he's just completely wrong."
Industry groups including the manufacturers and the U.S. Chamber of Commerce are fighting opposition by Tea Party-affiliated organizations to renew the lender's charter before it expires at the end of September. President Barack Obama has proposed a five-year renewal and a gradual increase in its lending cap, to $160 billion, from the current $140 billion.
House Majority Leader Eric Cantor, a Virginia Republican, was instrumental in brokering a deal to renew the bank's charter in 2012. Cantor lost a June 10 primary election to economics professor Dave Brat. Timmons said he didn't think Cantor's loss would affect the bank's reauthorization.
'Competitiveness Issue'
"There are clearly hurdles that are going to need to be jumped before Ex-Im is reauthorized," he said. Timmons said other nations provide financing to help their domestic exporters, and the U.S. stands to lose jobs if it doesn't do the same.
"This is a competitiveness issue," he said. "I think the imperative for Ex-Im is there."
Timmons said recent legislative proposals to prevent companies from buying overseas counterparts to lower their tax bills -- a practice known as an inversion -- underscore the need for comprehensive changes to the tax code, including a corporate rate below 25 percent.
"The most important thing is for Congress to understand we need a comprehensive tax rate and a competitive system," he said. "Until they accept that reality, we are going to see" issues like tax inversions, he said.
Medtronic's Deal
The prospect of lower tax rates through a tax inversion are a reason in Medtronic Inc.'s $42.9 billion purchase of Covidien Plc and Pfizer Inc.'s more than $100 billion effort to buy AstraZeneca Plc.
Obama has proposed making inversion deals tougher, and Senator Carl Levin, a Michigan Democrat, has proposed legislation that could curtail such tax deals. Ron Wyden, the Oregon Democrat who chairs the Senate Finance Committee, has also been critical of inversions.
Short-term fixes, like anti-inversion legislation, limit Congress's ability to do comprehensive tax reform, Timmons said. "I think that this highlights that we have an urgency" for broader changes in the tax code, he said.
Timmons also said his group plans to challenge the Obama administration proposed rules to curb greenhouse gas emissions from existing power plants. He said the rules, announced June 2, will ultimately raise costs for businesses and consumers.
"I see us leading litigation" to stop the rules, he said.
Before it's here, it's on the Bloomberg Terminal.
LEARN MORE