Why Russia Probably Won't Get the Gas Deal It Wants From Ukraine
By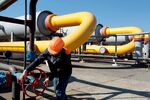 When Russia shut off gas supplies to Ukraine in January 2009, the Ukrainians quickly scrambled to the negotiating table as factory shutdowns and electricity blackouts rolled across their country into Eastern Europe, and some residents had to gather firewood to heat their homes. It took the Ukrainians less than three weeks to sign a new deal with Russia's Gazprom.
Now Gazprom has turned off the taps again, announcing today that it has stopped shipping gas to Ukraine. This time, though, Kiev looks decidedly less willing to compromise. For one thing, it's summer, and Ukraine and its neighbors say they have sufficient stockpiles to get through the warmer months when gas demand is low.
What's more, Gazprom's bargaining power has faded since 2009, as its key European customers demand price discounts and look for other energy supplies. Half of Gazprom's shipments to the European Union flow through Ukrainian pipelines, and if Moscow can't come to terms with Kiev, that would "only reinforce the idea in Europe that they need to diversify to more reliable partners," says Neil Shearing, chief emerging markets economist at Capital Economics in London. "Russia has more to lose than many assume."
Just as important, the Ukrainians learned from their last go-round with Gazprom that an agreement made under duress can have disastrous consequences. The 2009 deal, signed by then-Prime Minister Yulia Tymoshenko, allowed Ukraine to pay deeply discounted prices to Gazprom that year. But the discount was only temporary, and it was based on a formula that established a base price well above what was being paid by Gazprom's Western European customers. U.S. diplomatic cables later published by WikiLeaks quoted a World Bank official as saying Russia had gotten "a great deal. Ukraine's gas prices were 10 percent higher than Germany's, whereas Ukraine was getting half of what it should for transit" through its pipelines.
The agreement also required the Ukrainians to pay for a fixed quantity of gas even if they didn't use it. The quantity set by the so-called take-or-pay clause was far more than Ukraine needed, says analyst James Henderson of the Oxford Center for Energy Studies, and as a result, Kiev ran up a debt of some $18 billion to Moscow.
It's true that Ukraine also hasn't paid for substantial quantities of gas it did use. Gazprom now is demanding prepayment for future shipments to Ukraine and has filed an arbitration claim in Stockholm seeking $4.5 billion to cover what it describes as "chronic nonpayment" by Ukrainian gas group Naftogaz.
Ukraine, in turn, has filed an arbitration claim asking that terms of the 2009 agreement be discarded. Gazprom now is demanding prepayments from Naftogaz of $385 per 1,000 cubic meters of gas. That's at the top end of the range paid by most of Gazprom's European customers. But what's even more worrisome for Ukraine is that the 2009 agreement would allow Gazprom to raise that price to as much as $485 per 1,000 cubic meters, at any time from now until 2019.
The arbitration cases are "enormously complicated" and aren't likely to be settled quickly, Henderson says. That means Kiev and Moscow are likely to reach some kind of settlement to avoid dire consequences when the weather turns cold. For the moment, Gazprom is still sending enough gas through Ukrainian pipelines to meet its obligations to EU customers. Ukraine probably won't dip into those supplies, for fear of being seen as "stealing gas from their European friends," Henderson says. But if there's no agreement by winter, "the risk of Ukraine having to take gas from the pipeline increases very significantly."
Russia might respond as it did in 2009, by simply cutting off the Ukrainian pipelines. But with Russia's economy looking increasingly shaky, that's a scenario Moscow wants to avoid, says Shearing of Capital Economics. And while Russia is trying to offset its exposure to the European market with a Chinese gas deal, China sales are unlikely to produce the rich returns that Gazprom has long enjoyed in Europe. If Gazprom doesn't make a deal with Ukraine, Shearing says, "Russia could be the big loser."
Before it's here, it's on the Bloomberg Terminal.
LEARN MORE