Thai Junta Ends Curfew, Puts Out Welcome Mat for Tourists
by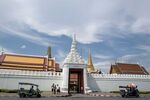 The government of China has refrained from criticizing the junta ruling Thailand. Now the National Peace and Order Maintaining Council, as the military-led group is known, must hope ordinary Chinese will be just as understanding.
Would-be visitors from China have shown particular wariness about traveling to the strife-torn kingdom: Chinese tourist arrivals plunged 23 percent in April and May, according to a report published today by AEC Securities in Bangkok. The Chinese are not the only ones staying away from Thailand. Overall tourist arrivals last month fell 11 percent compared with May 2013, to 1.74 million. For the second quarter of the year, 4.9 million tourists will visit the country, according to a report published Monday by AEC Securities, down about 6 million in the same quarter last year.
That's taking its toll on the Thai economy. HSBC had expected growth of 3 percent this year but has now cut its forecast to just 1.4 percent, the bank said in a research note published today.
It doesn't help that many governments are still cautioning their citizens about visiting Thailand. The U.S. State Department, for instance, "recommends that U.S. citizens reconsider any non-essential travel to Thailand." Sixty-two countries have now issued such travel warnings, up from 45 in late May.
Thailand's hoteliers, however, are likely to get a break soon. "Weak momentum is expected to continue in June," wrote AEC analysts Piyathida Sonthisombat and Pakira Banchakorn. But the industry "is expected to show recovery" next quarter, the analysts wrote, following the junta's announcement Friday that it was lifting the curfew it had ordered following the coup that deposed Thailand's democratic government last month. Welcoming the end of the curfew, Tourism Authority of Thailand Governor Thawatchai Arunyik said in a statement: "The famous Siamese smile has not dimmed."
Looking ahead, Thai hoteliers are counting on tourists to forgive and forget the latest round of Red Shirt-Yellow Shirt unrest. For the year as a whole, AEC projects tourist arrivals will total 24 million, down 10 percent from a year ago. Bangkok-based Central Plaza Hotel, which operates hotels as well as KFC, Mister Donut, and Baskin-Robbins outlets, suffered a 24.6 percent year-on-year drop in its Bangkok occupancy rate in April and May. Still, the company plans on adding 24 hotels by 2017, a 55 percent increase in the number of hotels in its portfolio, the company announced earlier this month.
Others also seem convinced that the worst is over. The stock price of Minor International, a Bangkok operator of hotels and restaurants, has jumped 15 percent since the military declared martial law on May 20, compared with a 5 percent increase for the benchmark index.
Before it's here, it's on the Bloomberg Terminal.
LEARN MORE