pursuits
New Zealand Sportswear Maker Finds 'Naked Airline CEO' a Perfect Fit
By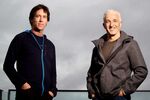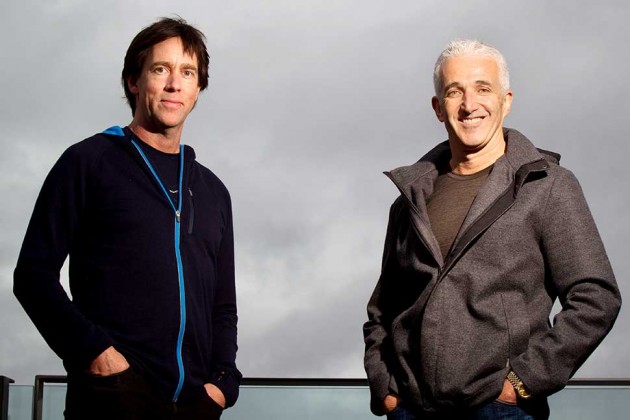 Even now, in its 19th year and with more than $180 million in annual revenue, Icebreaker is a brand many are keen to say they discovered first. This is partly by design. Early on, the New Zealand-based pioneer of merino wool athletic wear decided to forgo a partnership with an established outdoor clothier and turned away an interested chain, preferring instead to sell through small, independent retailers in resort towns. Icebreaker bet that vacationers in Lake Tahoe; Park City, Utah; Aspen, Colo., and Sun Valley, Idaho (also Chamonix, France; Verbier, Switzerland, and Lech, Austria) would find and love its thermal underwear, lightweight jerseys, and quarter-zip sweaters, then gush about them when they got home. The company also embraced unforgettably bizarre, one-with-nature marketing materials, including a half-man, half-ram mascot, who cavorts with nude women on its catalog covers and shopping bags, and at least one ad that didn't shy from sex-with-sheep innuendo.
It worked. Icebreaker apparel is now sold by 4,000 resellers in 40 countries, plus 22 stores of its own and a profitable online business, but people still return from mountain towns thinking they've made a find. It's done so well, in fact, that on June 2, the founder and majority owner, Jeremy Moon, decided to fire himself as chief executive officer.
"Every year since we started the company has been quite different," says Moon, who is 44. "And every year the biggest company I've ever run is Icebreaker, so I have had to constantly reassess who I have to be for the business." As the company expanded, he adds, "I've been focusing on running the business, but I've got further and further away from my real passion point. So hiring Rob Fyfe is the right thing to do for me and the company."
It's not unprecedented for a founder to wake up one morning and decide he's had enough or to be circumspect about his no longer being the best one to lead the company once it has reached a certain size. (In his 2000 book, The Monk and The Riddle, Randy Komisar presents his theory that Silicon Valley startups require three different kinds of leadership from startup to maturity, which he memorably compares with breeds of dogs: Retriever, then Bloodhound, then Husky.) Even so, it's remarkable for a founder and CEO to replace himself decades from retirement age and without any intention of selling the business. In fact, Moon's not leaving. He intends to remain involved—as executive chairman and creative director—something that few incoming CEOs would welcome, justifiably afraid that the founder will second-guess them or meddle outright.

Moon is handing Icebreaker's reins to the former head of an airline. Fyfe, 53, led a turnaround of Air New Zealand that established the carrier as the envy of the industry. He's a proven executive, but Air New Zealand has $4 billion in revenue and 11,500 employees, to Icebreaker's $200 million and 430, so it still wasn't an obvious fit. To understand how Moon wooed Fyfe, and why Fyfe said yes, I asked to interview them both, but separately. With typical Kiwi candor, they consented ("Sure, mate, that's co-ahl") and jumped on the phone without any press handlers. Here are five keys to their selection process.
Unity on what's working. When Icebreaker began, it was a niche within a niche (natural fiber clothing in the outdoor "technical" apparel category), but its product had clear advantages. "Before Icebreaker," Harvard Business School professor Joseph Lassiter III wrote in a 2011 case study, "wool was perceived as 'hot and itchy.' This perception emerged from the fact that wool was hot and itchy." Icebreaker's merino is neither. It has advantages over other fabrics, too. Unlike cotton, merino wool continues to insulate even when soaked; unlike synthetic fibers—polypropylene, Capilene, etc.—which tend to trap body odor, merino "breathes" and can be worn days in a row before it offends anyone. That's how Icebreaker earned such positive word of mouth and why neither Moon and Fyfe believes the fundamentals of their product need to change. What they have to do is hold off the competition (SmartWool, Ibex); keep control of their most valuable suppliers (merino sheep, which they do not own but keep under contract); and use design and clever marketing to stay ahead of trends.
2. A three-year courtship. "Until I met Rob, I wasn't looking for a CEO to replace me," Moon says. "It was an opportunity that developed through our working relationship. … I'm co-founder of Better by Design, a nonprofit organization with the intention of having a positive impact on the New Zealand economy and promoting entrepreneurship. We hold a conference, and three years ago, I asked [Fyfe] to be a speaker. And he was rated No. 1 against amazing international speakers, and that's where our friendship started."
3. Balancing continuity with change. "There's not enough hours in the day to do everything you want to do," says Fyfe. "So you end up having to make choices about things you emphasize and things you choose to deemphasize in terms of how you allocate your time. When you transition from one CEO to the next, there's a really good chance to make those choices in a different way. A new CEO coming in, you don't want to be a replica of the past CEO, you want that person to come and lift up new rocks and find undiscovered opportunities in areas of value that the previous CEO missed."
4. Shared values. Both Moon and Fyfe are New Zealanders, connected to global business and focused on what they see as the ultimate Kiwi business challenge: How do you build a large-scale international business from New Zealand? "What I'm very passionate about is leveraging the personality, the sense of identity, the passion I have for New Zealand and bringing that back to life within brands," says Fyfe. "With Icebreaker, I very quickly felt a much stronger connection than any of those other businesses I looked at. … Salary wasn't a driving factor for me. I have the resources I need to support my family, enjoy the outdoors, travel and explore. My remuneration is substantially less than what I was receiving at Air New Zealand and entirely stock-based, with no cash component."
4a. Similar sense of humor. "If you Google some of the history on me, you'll see that we have a tradition around nudity between the two," says Fyfe. "My previous organization and this one."
5. Shared goals. "Sales are a great metric of how much impact you're having on people," says Moon. Agreed, says Fyfe, who said he would be disappointed if Icebreaker's sales don't double in the next three to five years.
Before it's here, it's on the Bloomberg Terminal.
LEARN MORE