New World $2.4b Buyout of China Unit Rejected by Holders
Michelle Yun and Jonathan Browning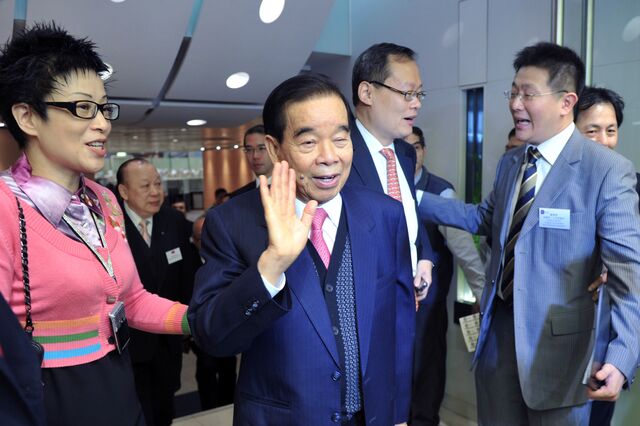 New World China Land Ltd. slid in Hong Kong trading after New World Development Ltd.'s $2.4 billion plan to take its China property business private failed.
Shares of New World China plummeted 17 percent to HK$5.30 at the close, the biggest drop since October 2011, as the stock resumed trading in Hong Kong after being suspended yesterday. New World Development lost 1.1 percent to HK$8.80 as it also resumed trading.
The acquisition failed to receive approval from the required majority number of independent shareholders of New World China, the company said yesterday in a statement. About 66 percent of the 749 independent shareholders who voted rejected the proposal, it said. Those who voted against the plan only represented 0.16 percent of the shares.
"We expect NWD share price will experience some weakness in the near term due to the expected NWCL price correction," UBS AG analysts, led by Eugene Cheung, wrote in a note dated yesterday. "We consider it a net positive development since we prefer New World Development to focus its investment on Hong Kong rather than China properties."
New World Development, controlled by the family of Hong Kong billionaire Cheng Yu-tung, proposed in March to buy shares of the China unit for HK$6.80 each, a 32 percent premium to the last price before the offer. The company raised around HK$13 billion ($1.7 billion) since then in a rights issue, which Chairman Henry Cheng said would be used for the privatization, according to a Cable TV report in March.
Headcount Test
The proposal was rejected even as the 34 percent, who voted in favor, held 99.8 percent of the shares, due to a regulation known as the "headcount test." The rule, which has been abolished for Hong Kong-incorporated companies, applies to this deal because New World China was incorporated in the Cayman Islands, according to David Webb, an independent financial commentator and founder of Webb-site.com.
"It doesn't serve the purpose of modern shareholder rights, which is 'one share, one vote,' not 'one person, one vote,'" Webb said today by phone about the regulation. "It facilitates vote rigging in both directions."
The headcount rule also came into spotlight during the attempted buyout of telecommunications company PCCW Ltd. by billionaire Richard Li in 2008. The deal was blocked by a Hong Kong court after the city's market regulator alleged that PCCW stock was improperly given to certain investors to boost support for the transaction.
Respecting Rules
"We have to respect by the rules of the game, but we should also think about whether they're reasonable or not," Cheng said at a press conference in Hong Kong. "I don't think it's reasonable. Related authorities should think about revising this rule."
Proceeds from the rights issue will be used for a commercial development and for opportunities to replenish the company's land bank in Hong Kong and mainland China, he said.
New World Development, which controls 66 percent of the unit, cannot make another offer for New World China shares for 12 months, except with regulatory consent, according to yesterday's statement. Shareholders of the parent company approved the proposal yesterday, with 69 percent in favor and 31 percent against.
The China unit, which listed on the Hong Kong stock exchange in 1999 at HK$9.5 a share, has residential, retail, office, and hotel projects in 22 Chinese cities, including Beijing and Shanghai, according to its website.
The offer price was at a 32.5 percent discount to New World China's net asset value, Webb said.
"They were getting a bargain deal in terms of book value," he said. "They could've avoided the headcount rule if they made a general offer instead."
Buying out New World China, which has limited ability to raise funds from the market, would give it greater financial strength and reduce costs associated with a separate listing, the companies said in a March statement.
Before it's here, it's on the Bloomberg Terminal.
LEARN MORE