Murdered Iraqi Soldiers Were Fans of European Soccer
By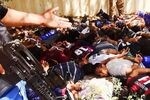 You can see Mesut Ozil's jersey in two different places on the news today. If you're watching the World Cup on ESPN or Univision, his German jersey is on his back. In Salvador, Brazil, Germany is leading Portugal 2 to 0 in the 36th minute. It's an exciting game, full of aggressive attacks and already a red card. Angela Merkel is watching, content, from the stands.
If you're watching coverage of Iraq on a news network, it's hard not to notice the European club team soccer jerseys on the backs of the captured Iraqi army soldiers who fled their posts wearing civilian clothes. The Islamic State of Iraq and Syria (ISIS) has been distributing pictures of what looks like a massacre of the soldiers. The Long War Journal has collected some of them in a post, and on the back of one of the men, who's arranged in a ditch with his hands bound, you can clearly see Ozil's old Real Madrid jersey.
Ozil, a creative attacking midfielder from a Turkish family now established for three generations in Germany, is a practicing Muslim. But his is not the only uniform that shows up in the photos. One man, face down, is wearing the FC Barcelona jersey of Jordi Alba, a defender on the Spanish national team, also now in Brazil. Another is wearing the Paris Saint-Germain jersey of Zlatan Ibrahimovic, a striker for Sweden, which didn't qualify this year. There are two more jerseys, which I can't quite make out: a No. 11 and possibly Cristiano Ronaldo's Real Madrid No. 7.
Men wear sports jerseys. So if caught and killed, there's a chance that some will happen to be wearing them. But something about those men in the ditch is more than an accident. Soccer is hugely popular in the Middle East. The Qatar Investment Authority controls Paris Saint-Germain, Ibrahimovic's club. Sheikh Mansour bin Zayed al-Nahyan of Abu Dhabi owns Manchester City, the winner of this year's Barclays Premier League. (Both teams were fined in May for breaching rules on player salaries.) The Qatar Foundation sponsors Alba's FC Barcelona jersey.
The money flowing into the English and Spanish leagues has concentrated on the best players in the world. And it's created exciting soccer. But soccer, and in fact all professional sports, flourishes in places where there's not just money, enthusiasm, and talent, but also decentralized authority, long-term stability, and a broad economy. Middle Eastern royal families are sponsoring European leagues because to bring amazing soccer closer to home would take more than just money. It would also take democracy, and that's harder.
Last year a Saudi prince bought half of Sheffield United, with the hope of investing in it and taking it to the Premier League, the same way the Qatar Investment Authority has reinvigorated Paris Saint-Germain. But Saudi Arabia, the United Arab Emirates, and Qatar proved completely useless in using all their money and influence to help encourage democracy in the Middle East during the Arab Spring. And it's hard to see where they've ever helped in Iraq. Much easier to enjoy a democracy from a hotel suite in Knightsbridge than to encourage one anywhere nearby.
In the time it took me to write this, Germany has now won, 4 to 0. Ozil left the field after 62 minutes to standing applause from Chancellor Merkel, after an end-to-end game in 86-degree heat. I don't know why the men in those pictures from Iraq were wearing Ozil's jersey, or Ibrahimovic's or Alba's. I doubt they were thinking about democracy when they bought them. Ozil is one of the best midfielders of his generation. Ibrahimovic can do things when upside-down with the soccer ball that a lot of professionals can't even do when right-side up.
But it's not an accident that the two play in Europe. When the royalty of the Arabian Peninsula went looking for soccer teams to buy and sponsor, they found them in places where democracy had already produced all kinds of wonderful things: London, Paris, Barcelona, the Premier League, La Liga. That money drove up Ozil and Ibrahimovic's salaries, and they are both worthy and sometimes magical players. It didn't do much for the men lying in a shallow grave wearing their jerseys.
Before it's here, it's on the Bloomberg Terminal.
LEARN MORE