Michael Schumacher Out of Coma, Leaves Hospital for Rehab
Angela Cullen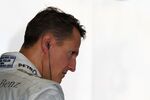 Michael Schumacher, the record seven-time Formula One world champion who suffered head injuries after a skiing accident in the French Alps in December, has left the hospital after emerging from a coma.
"Michael has left the CHU Grenoble to continue his long phase of rehabilitation," his managers said in an e-mailed statement today. "He is not in a coma any more."
The 45-year-old retired racing driver had been treated at the specialized clinic since suffering cerebral hemorrhaging and contusions to the brain in the Dec. 29 fall. He crashed into a rock while skiing in the Meribel resort a few meters to the side of a marked slope.
He was placed in a medically induced coma after undergoing partial skull-removal as a way to relieve dangerous pressure, as well as surgery to remove blood clots in his head. A month after the accident, the German's family said doctors would start gradually waking him. By April he showed "moments of consciousness and awakening," according to a statement from his spokeswoman Sabine Kehm.
Schumacher was taken to a hospital in Lausanne, Switzerland, Agence France-Presse reported today. His rehabilitation will take place "away from the public eye," according to the statement, which thanked the doctors, nurses and therapists in Grenoble as well as the first aiders at the scene of the accident.
The son of a go-kart track caretaker in the western German town of Kerpen, Schumacher won titles with the Benetton team in 1994 and 1995 and took five consecutive ones with Ferrari from 2000 to 2004. He left the sport after the 2012 campaign following a three-season comeback with Mercedes, during which he didn't win a race.
Before it's here, it's on the Bloomberg Terminal.
LEARN MORE