World's Tallest Building to Get World's Fastest Double-Decker Elevators
by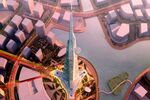 In the new world of superhigh skyscrapers, it's not just size that matters. Speed counts, too, making elevator velocity the latest arena of competition. Claiming a fresh superlative, Saudi Prince Alwaleed Bin Talal says his planned kilometer-high tower, which will be the world's tallest, will also boast the world's fastest double-decker elevators.
Finland's Kone will be the "vertical transportation provider" for the Kingdom Tower in Jeddah, with elevators that travel at a speed of more than 12.5 meters per second, or 750 meters per minute, Alwaleed announced yesterday. As Bloomberg Businessweek previously reported, elevator companies are racing to perfect technologies to capture the new market for such ultratall buildings.
For the record, though, having the fastest double-decker elevators isn't the same as having the fastest elevators overall. That record is currently held by the two single-decker lifts in Taiwan's Taipei 101, the world's third-tallest building. Those elevators, installed by Toshiba Elevator & Buildings Systems, can ascend at 1,010 meters per minute. That record is expected to fall in two years when Hitachi delivers two elevators capable of rising at 1,200 meters per minute for the Guangzhou CTF Finance Centre in China. Those elevators, with technology to reduce the sensation of ear blockage, will go from the first to the 95th floor in about 43 seconds. 
Speeds in not-yet-built structures, of course, are projections. Kingdom Tower's lift velocities will only count once the project is finished, which is supposed to happen in in 2018. Alwaleed, in the meantime, may scale other heights. The prince is the world's 14th richest person, according to the Bloomberg Billionaires Index, with a net worth of about $34 billion. Lately, it's been going up.
Before it's here, it's on the Bloomberg Terminal.
LEARN MORE