Kenya to Sell $2 Billion Debut Bond Amid Security Concern
Lyubov Pronina, Eric Ombok and Robert Brand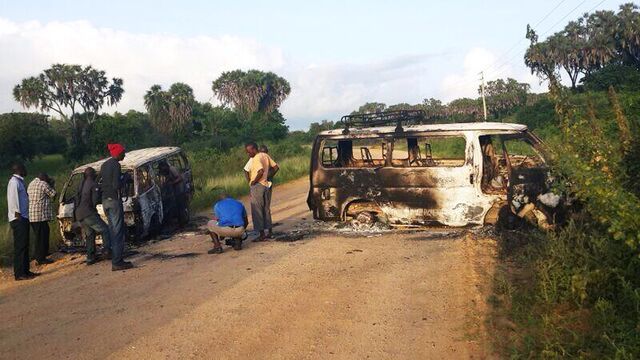 Kenya plans to raise $2 billion from its first offerings of Eurobonds, a day after a terrorist attack killing 48 people heightened security concerns in East Africa's biggest economy.
The sale includes $500 million of five-year securities that will price to yield 5.875 percent and $1.5 billion of a 10-year bond at 6.875 percent, according to a person familiar with the plans, who asked not to be identified as the information is private. That compares with the 7.1 percent yield on similarly rated 2024 bonds sold by Zambia in April.
Kenya will use the proceeds for infrastructure projects and repayment of a $600 million loan that matures this August. The government forecasts economic growth will accelerate to 6.1 percent in the year through June 2015 from an estimated 5.3 percent in fiscal 2014, helped by exports of tea and flowers. Bombings in Nairobi and the port city of Mombasa killed more than 100 people since a Sept. 21 attack on the Westgate Mall in the capital.
The price is still attractive "although they haven't left much on the table," Max Wolman, who helps oversee $13.5 billion in emerging-market debt as a money manager at Aberdeen Asset Management Plc in London, said by phone today. "Given that Kenya is one of the better African sovereigns, demand will be high."
Zambia raised $1 billion two months ago in Africa's first sovereign dollar-debt offering of 2014. It was priced to yield 8.625 percent after a widening fiscal deficit prompted a ratings downgrade last year. Kenya shares Zambia's B1 rating at Moody's Investors Service, three levels below investment grade.
Black Tea
Kenya, which first considered selling Eurobonds in 1997, is the world's biggest exporter of black tea. The fastest growing industries in 2013 were wholesale and retail trade, financial services, transport and communications, according to data from the Kenya National Bureau of Statistics.
Visits to the country fell 7 percent last year following an increase in gun and bomb attacks since Kenya deployed soldiers in neighboring Somalia in 2011 to battle the al-Qaeda-affiliated al-Shabaab militia. Tourism is Kenya's second-biggest source of foreign currency after tea, generating $1.1 billion in 2013.
Suspected al-Shabaab militia attacked the Kenyan coastal town of Mpeketoni yesterday, shooting indiscriminately and setting ablaze at least seven buildings, according to police and emergency workers.
"The biggest risk comes from the security situation and the more traditional African issues such as lack of infrastructure and insufficient supply of electricity," Christian Mejrup, a money manager at Global Evolution A/S, which oversees $2.1 billion, in Kolding, Denmark, said by e-mail. "Kenya is a well-diversified economy and a prospect of an economic game changer when the oil/gas production materialize."
Kenya's infrastructure projects include building additional port capacity in Mombasa, expanding the railway network and improving energy-generation facilities.
(An earlier version of this story was corrected to show in second paragraph that Zambia sold Eurobonds maturing in 2024.)
Before it's here, it's on the Bloomberg Terminal.
LEARN MORE