John McKinley, Texaco CEO Before Record Bankruptcy, Dies
David Henry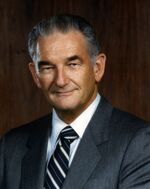 John K. McKinley, the chief executive officer who tried to resuscitate Texaco Inc. before a jury asked it to pay a then-record $10.53 billion in damages as part of a lawsuit that led to the biggest U.S. bankruptcy, has died. He was 94.
He died on June 12 at his home in Dallas, Kurt Glaubitz, a Chevron Corp. spokesman, said yesterday, citing the family. No cause was given. Chevron acquired Texaco in 2001.
The Alabama-educated chemical engineer had a 45-year career at Texaco, the nation's third-largest oil company at the time, when it lost the case against Houston-based Pennzoil Co. over the acquisition of Getty Oil Co. The Texas jury's award was the largest in U.S. history. McKinley was chairman and CEO from 1980 until his retirement in 1986.
McKinley tried to revitalize Texaco by investing billions of dollars in exploration, closing refineries and service stations, while cutting jobs at the White Plains, New York-based company, according to a 1985 article in the New York Times. He humiliated executives in front of their peers and was dreaded by underlings, according to a 1986 profile in Fortune magazine.
"I may be interpreted as asking harsh questions, but I don't mean it that way," McKinley said in an interview for the Fortune article. "If people are afraid of me, it's because of fear of their own inadequacy."
Clinching Deal
In the biggest U.S. corporate legal case at the time, Texaco struck a 1984 deal to buy Getty for $10.1 billion after Pennzoil, formed from a company co-founded by George H.W. Bush, claimed it had a prior agreement to buy Los Angeles-based Getty.
Getty was run by Gordon Getty, the fourth son of its founder, J. Paul Getty, often described as the world's richest person before his death in 1976.
Pennzoil, valued at about $1.5 billion before the dispute, filed a lawsuit seeking $15 billion in damages from Texaco.
In 1987, Texaco filed for bankruptcy with $34.9 billion in assets, according to a Times story. It was then the largest U.S. bankruptcy. After a reorganization, the company emerged from court protection in 1988. With the help of corporate raider Carl Icahn, who had acquired a 12.3 percent stake in Texaco, it reached a settlement to pay Pennzoil $3 billion.
"John McKinley established a record of strong leadership and strengthened Texaco's operational capabilities and competitive position during his tenure," Chevron, now based in San Ramon, California, said yesterday in an e-mailed statement. "He oversaw efforts to expand the company's asset base, including the purchase of Getty Oil, which continue to benefit our company today."
Alabama Upbringing
John Key McKinley was born on March 24, 1920, in Tuscaloosa, Alabama, according to a paid notice in the Times. His father, Vergil Parks McKinley, was a college professor and his mother, Mary Emma Key McKinley, was an elementary school teacher.
He attended Tuscaloosa High School, graduating in 1937, before earning a Bachelor of Science degree in chemical engineering at the University of Alabama and a master's in organic chemistry. He joined Texaco in 1941 as a chemical engineer involved in grease research at the Port Arthur refinery in Texas.
McKinley spent 4 ½ years in the U.S. Army during World War II, serving in Newfoundland and in Europe. Landing in Normandy in August 1944, he took part in fighting across France, Belgium and Germany, including the Battle of the Bulge. He attained the rank of major and was awarded a Bronze Star for valor in a battle for the Roer River, according to the Times notice.
Career Advancement
Back at Texaco, McKinley worked in research and development, securing more than a dozen patents for petroleum additives and grease components. He graduated from Harvard University's Advanced Management Program in 1962 and was elected president of the company in 1971.
An avid hunter, the Texaco CEO often visited the company's hunting lodge near Sheridan, Wyoming, where the nearest telephone was 15 miles away, rendering McKinley and his visitors removed from corporate developments each day, T. Boone Pickens wrote in his 2000 memoir "The Luckiest Guy in the World."
"I could only assume they didn't want to know what was going on," Pickens wrote.
The former CEO was a consultant to ChevronTexaco Inc. after Texaco's merger with Chevron. He and his wife, Helen, established the Merrymac McKinley Foundation in 1987, creating more than 30 scholarships and awards at various U.S. universities.
McKinley married the former Helen Grace Heare in 1946. They had two sons, John K. McKinley Jr. and Mark C. McKinley.
McKinley and his wife, who died in 2002, had homes in Darien, Connecticut, and Tuscaloosa, as well as a ranch in Buffalo, Wyoming.
His survivors include his sons and three grandchildren.
Before it's here, it's on the Bloomberg Terminal.
LEARN MORE