Is This the Summer You'll Pay $1,000 for a Ceiling Fan?
by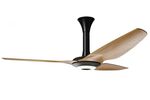 With summer just around the corner, how much would you pay to keep your home cool?
Earlier this month, a Lexington (Ky.) company called Big Ass Solutions—formerly known as Big Ass Fans—began taking orders for a new "smart" ceiling fan. It's made from compressed bamboo and equipped with Wi-Fi and sensors that monitor heat and humidity. Users can program the fan to react to the time of day, the temperature, and whether there's anyone in the room.
Add the new smart-fan technology to the cost of one of the company's Haiku fans, and the price can top $1,000. That sounds like a lot of money in a market where shoppers can find a variety of models for less than $100. Big Ass Solutions Chief Executive Carey Smith bristles at questions about the cost. "It's like building a Porsche and being compared to a Chevy Malibu," he says.

Anyone who doubted whether there's big money in souping up stodgy home appliances should have been silenced earlier this year when Google bought Nest, maker of fancy Internet-connected thermostats, for $3.2 billion. General Electric, teaming with design startup Quirky, sells a smart air conditioning unit. While the price tags on such products may cool some shoppers' interest, the investments in better controls for home heating and cooling devices can pay off by saving electricity or fuel.
Big Ass Solutions has sold close to 100,000 home fans at prices that can exceed $1,000 even without the new smart system. The 400-employee company is projecting $200 million in revenue this year, with about a quarter of that coming from residential customers.
When Smith launched the company in 1999 to focus on cooling industrial spaces, he spent a lot of time explaining to factory and warehouse owners why his fans were so big and moved so slow. For commercial uses, the short answer was intuitive for many customers: The fans move a lot of air and cool large areas without using much energy.
To sell to the home owner, Smith's company stresses its efficiency chops. The company also targets customers interested in engineering and design, advertising in Popular Science, the New Yorker, and other consumer magazines. "People want to think it's about the one percent, but we don't advertise in the high-end luxury publications," says Smith. In the end, the trick to selling expensive fans is convincing consumers that they're getting their money's worth. Says Smith: "It's a piece of furniture, not a piece of junk."
Before it's here, it's on the Bloomberg Terminal.
LEARN MORE